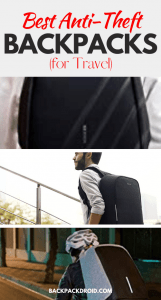 Backpacks are a favorite of many people, and especially so if you are a commuter or a regular traveler. They are convenient, comfortable to carry and the best of all, they allow you to bring your favorite items that you cannot leave behind.
Unfortunately, you cannot always be aware of what happens behind you, and that is especially so in a busy street, or when standing in an airport or train station. Typically, it is not every stranger that you meet is trustworthy. Some of them will want to help themselves with the items you are carrying.
To prevent unauthorized access to your precious items such as the cellphone, iPad, and tablet, you are going to need the best anti-theft backpack.
So, the million-dollar question is, which are the ideal anti-theft backpacks for travel and School?
In the following review, we explore the features in some of the top-selling anti-theft backpacks to help you in the decision-making process. Enjoy the read!
Top 9 Best Anti Theft Backpacks reviews:
The most appropriate anti-theft travel backpack is not always comfortable to select. There are particular features that he may need to look out for to get the best. Please keep it in mind that not all backpacks are created equal.
Without much ado, here is a short discussion of the kind of backpacks that you should buy to keep your items safe when traveling or commuting.
1. Pacsafe Metrosafe LS450 25 Liter Anti Theft Laptop Backpack
For starters, this is a backpack that has one of the most attractive designs you'll find on the market. It has this shiny surface that will make you look cool in whatever area you will be. Most people may not admit it, but good looking backpacks are what most of us want.
But apart from the appealing design, what are the other features that you should note?
Anti-theft features
Traveling from one place to the other is fun. Unfortunately, it also exposes you do a variety of risks that include pickpocketing.
This attractive backpack has a handful of anti-theft features that protect your items from pickpockets and other people that are up to no good. For example, it comes with a lightweight steel mesh embedded into the material to make it cut proof.
Even better, it features RFID pocket to keep your precious bank cards safe. There are smart thieves out there that may have the equipment to swipe your card inside the backpack, without having to take it out. Traditional packs never used to have this feature, but the development of technology is making it critical for travelers to have RFID pocket to protect their credit cards.
You will also find the lockable zippers to be quite useful in keeping unauthorized access while in a busy street or commuter train. You will come across some people that may try to open the zippers and help themselves to the contents of the backpack. Don't make it easy for them.
Comfortable
You may notice that there is some connection between attractive looking products and confidence. And when you are confident, you feel comfortable when moving from one place to the other. But is this backpack comfortable, in terms of functionality?
The adjustable padded shoulder straps are a source of comfort that you need when traveling. You will not feel any strain to the shoulders or the back, and that of course, is a good thing. It is also essential to add that the design of the backpack is in essence, comfortable. Be sure to also check out our list of the best concealed carry backpacks for more great items like this.
Pros
The backpack has a variety of anti-theft features such as lockable zippers, RFID pocket, and steel mesh embedded into the fabric
Comfortable adjustable shoulder straps with sufficient padding
It has an attractive design
Durable material for durability and protection of your items from the weather
Cons
Some people with certain body types may find it uncomfortable
2. Travelon Anti-theft Signature Slim Backpack
This backpack is for the people that love the slim design, and who need some anti-theft features to protect their equipment. It is also worth mentioning that the bag is appropriate for those people on a budget.
Comfortable Design
With such dimensions as 11x2x13, this is a great backpack that is not too big. It is just the right size, at least for most people. The bag is perfect for people that need to carry a few items when traveling.
It also has various pockets and compartments to make the organization of your stuff, effortless.
Anti-theft features
With features such as the patented lockdown hardware and lockable zippers, you can be sure that your items are safe when trying to navigate crowded areas. Pickpockets always try to take advantage of crowded regions to help themselves with electronics and other valuables from travelers.
It also comes with an interior RFID-blocking pocket to keep your credit and debit cards safe. The internal pocket is also appropriate for your passport. Other important anti-theft features include the slash-resistant body panel and shoulder straps. The various compartments are slash resistant, and so you can have peace of mind when traveling. Love this product? Check out our review of the best sling backpacks for our top picks.
Pros
Comfortable, attractive and slim design
Anti-theft features such as RFID blocking pocket, lockable zippers, slash resistant body panel and shoulder straps and patented lockdown hardware
The anti-theft backpack is budget-friendly
Water resistant
Various pockets and compartments for efficient organization
Cons
The backpack may have insufficient capacity for some users
The straps may not be comfortable for some people
3. KOPACK Waterproof Anti Theft Laptop Backpack USB Charging Port Business Scan Smart With Rain Cover 15.6 Inch Gray Black Kp626
Most people in contemporary society, and especially the youth, cannot leave home without their cellphone or iPad. However, the constant use of these devices drains their power, and as a result, a USB charging port is critical in current backpacks.
Essentially, this backpack has a removable USB charging port to make sure that your devices do not run out of juice, and which would be quite unfortunate.
Organization
The comfortable shoulder straps have a convenient pocket where you can keep your credit card. In particular, this feature saves you time when you are on the move. You don't have to unstrap and open the bag to access your bank cards.
Comfortable and Durable
Comfort features include the padded shoulder straps and the 3D streamlined design. You will feel no strain on the shoulders when carrying it from one place to the other.
The backpack has a durable and scratch-resistant material. Even better, the pack is water resistant to protect your stuff from the unpredictable weather. A waterproof rain cover is also available at the bottom to keep your cellphone and iPad among others, dry and working correctly.
Anti-theft features
It has an anti-theft back pocket and hidden side pockets that make it hard for pickpockets to find your stuff.
Pros
The built-in USB port that you can use to charge your devices
Water resistant and durable material to protect your items
It has a convenient bank card pocket on the shoulder straps for easy access
Padded and comfortable shoulder straps
Anti-theft features such as the hidden side pockets and back pocket
Cons
Some people find it to be too big to be comfortable
There may be a few challenges when using the USB port
4. XD Design Bobby Original Anti-Theft Laptop Backpack with USB port (Unisex bag)
The design of this anti-theft laptop backpack is adorable, and that is what drives its popularity among the youth. Plus, it has a variety of appealing anti-theft features that any traveler will find useful.
Anti-theft features
The hidden pockets and zippers are sure to make it hard for the pickpocket to find their way into the bag when you are not looking. You will also find the no access front design to be quite useful. In particular, it is a design that you may not find in most other backpacks on the market.
Durable and Water Resistant Design
The material on this backpack is shockproof and durable. As a result, the pack can go for a long time, serving you. Even better, it has a water repellent fabric to keep the contents inside the bag dry and safe.
The illuminating safety strips are essential to enhance your visibility while on the road. As much as your equipment is safe inside the backpack, you should be safe on the road as well. Don't you think so?
The weight balancing in this backpack is excellent in our opinion. It makes it easy to move around carrying your items, and that feels pretty cool for most people.
Pros
An attractive and comfortable design
A variety of anti-theft features that include no access front the design, hidden pockets and zippers, and cut-proof material
Water-repellent fabric to keep the items safe from the weather
Advanced storage design with the functional capacity to carry all your equipment
Cons
 The internal lining may not last very long
 it is relatively expensive
5. Pacsafe Venturesafe Exp45 Anti-Theft Carry-on Travel Pack-Eclipse Backpack
With the capacity of 45 liters, this anti-theft carry-on travel pack may be the ideal for you on your next trip. Apart from keeping your items safe, the bag is easy to carry and has a pretty attractive design. Some people may have reservations regarding the design, but you will notice that most users have no problem with it.
So, what are the other features?
Anti-theft features
You will find that this backpack has a host of anti-theft features that any traveler will fall in love with. For starters, it has a lockable and puncture resistant zipper that it will prevent any interference with the goal of gaining entry into the bag.
The fabric contains an embedded steel mesh to make the backpack cut-resistant. Those smart thieves with pen knives will have trouble accessing the backpack. No one should have access to things that they don't deserve, and this backpack makes sure of that.
You will also find a stainless steel cable that you can use to lock the backpack to objects such as the airport seat or table to prevent some smart dude from making away with it when distracted.
Organization
The organization is effortless with this backpack as there are various compartments and pockets you can use for different items. The main compartment is lockable and safe to keep your precious things inside. And if you have a laptop, there is a laptop sleeve but can fit a 15-inch.
There are also two zipper interior pockets where you can keep small objects such as cell phone and wallet. These items need to be on the inside to ensure safety by preventing easy access.
Pros
It has an attractive design
The backpack is easy to carry
Embedded steel mesh to make it cut resistant
A stainless steel cable that you can use to lock the bag to objects
15-inch laptop sleeve to ensure the safety of the device
Adjustable and padded shoulder straps and hip belt
Cons
It does not have RFID pocket
The backpack is a bit pricey
6. Markryden Anti-theft Laptop Backpack Business Bags with USB Charging Port School Travel Pack Fits Under 15.6 Inch Laptop
The anti-theft laptop backpack is one of the most affordable bags that you will find on the market. And just because it is affordable does not mean that it is poor quality. In contrast, it is one of the best, and it makes this list for a good reason.
Anti-theft features
The backpack has hidden zippers to keep access of the pockets away from pickpockets. Additionally, the fabric is cut-proof, and the thieves cannot figure out how to access your items in a crowded commuter train.
Organization
Interestingly, the backpack can carry both a laptop and an iPad. The laptop compartment is up to 15.6 inches while the iPad compartment is 9.7 inches. You will adore the flexible main pocket that opens up to 180° like a suitcase to make it easy for you to pack your things.
Furthermore, there are many slots that you can use to keep everything organized and easy to access. It is always quite fun finding your stuff quickly as you travel.
The removable USB cable makes it easy to keep your devices charged. You don't have to remove the power bank.
Pros
The anti-theft laptop backpack as one of the most affordable
 it has both an iPad compartment and laptop compartment
A-main pocket that opens up to 180 degrees like a suitcase
Anti-theft features that include hidden zippers and cut proof fabric
It has a removable USB cable that you can use to keep your devices charged
The material is durable and waterproof
Cons
Some users complain that the backpack has some smell
7. Pacsafe Citysafe CS300 Anti-Theft Compact Backpack
The anti-theft compact backpack is versatile, convenient and durable. It is a safe backpack that you can use to carry your items without worrying about theft confidently.
Anti-theft features
The fabric contains a steel wire mesh to prevent slashing by the pickpockets. There is also a pocket with RFID blocking material to keep your bank cards safe. Also, it has a slash guard strap to prevent instances of slash and run thefts.
Comfort and Organisation
The comfort features in this backpack include the adjustable shoulder straps that quite slash proof. It is also lightweight and comfortable to accommodate different body sizes. We are not all the same, and this particular feature makes this backpack one of the most suitable.
The various pockets and compartments help keep everything organized for easy access to your items.
Pros
Anti-theft compact backpack with a beautiful design
The backpack is comfortable to carry with padded shoulder straps and compact design
There's a pocket with RFID-blocking material to safeguard against hacker scanning of your bank cards
Wide shoulder straps to prevent shoulder strain
Several pockets and compartments to keep your gear organized
Cons
The shoulder straps may not be the most comfortable
8. Women Backpack Purse Waterproof Nylon Anti-theft Rucksack Lightweight School Shoulder Bag
As one of the most highly rated anti-theft rucksack for women, this backpack purse has everything that a woman would want in a safe and secure bag. But before anything, you have to admit this product has an attractive feminine design.
It appears like something out of a fashion magazine. In other words, it is quite stylish.
The material is durable soft PU leather and nylon. Essentially, these materials give the shoulder bag such a beautiful and attractive feel to it.
The backpack is not only durable, but also waterproof. Therefore, you will not need to worry about your laptop and other items when it starts to drizzle. It is a great functional bag that most female travelers would want to have.
For anti-theft function, the backpack comes with a back zipper that pickpockets would not find easily when commuting.
Pro
The backpack has an attractive design
It is lightweight and comfortable
Durable and waterproof materials
Cons
The backpack may not have sufficient anti-theft features
It may not be appropriate for carrying heavy loads
9. Travelon Anti Theft Classic Backpack
What makes this anti-theft backpack one of the favorites for many people is a stylish and compact design. However, it is also quite functional and has a variety of features that most travelers will find useful.
Some of the anti-theft features that it has include slash proof straps and RFID material pockets to prevent hacking of your bank cards. Furthermore, it has mesh body panels that are slash resistant. There is no chance of a pickpocket using a knife to gain access to your stuff inside the bag.
The shoulder straps are slash resistant to prevent cases of slash and run by thieves. And to ensure comfort, the shoulder straps are wide to distribute the weight of the bag across a larger surface area on the shoulder.
The various internal pockets help in the organization of the items inside the bag. You get easy access to your cell phone and other items through the side pockets. s, you don't waste time searching for something inside.
Pro
Compact and stylish design that every traveler will find attractive
Mesh body panels are slash resistant
It has sufficient space for iPad or tablet
beautiful design
 the bag is easy to carry and fits well on your back
Cons
The shoulder straps may not be adequately comfortable
There are several complaints regarding the quality of the zipper
What to Look for while Buying the top-rated Cycling Backpack
There are always specific criteria that you use when choosing a particular product. As mentioned earlier, it is not all products that are the same, and some of them are better than others. However, it can be challenging to determine which among them, is quality, and which is not.
For example, you know that it is going to rain with the change in temperature, humidity and the density of the clouds. Similarly, certain factors that we are going to mention below will successfully indicate quality in anti-theft backpacks or concealed Carry Backpacks.
Lockable Zippers
One of the best deterrents of prying eyes in busy streets is lockable zippers. Different theft proof backpacks will have different designs in terms of lockable zippers. For example, some of them will have the lockable zipper on the main compartment.
Ideally, all pockets and compartments should come with lockable zippers to ensure the security of your items as you travel.
However, such lockable zippers may not be sufficient in keeping out determined thieves from accessing the contents of the backpack. They are best when you are on the move.
You will also find some backpacks with TSA approved locks. In our opinion, lockable zippers with D-rings are the best, and in most cases, secure.
Slash Proof Material
Determined thieves will have creative ways of accessing your bag, and the most popular is by slashing their way into it. In such a case, lockable zippers may not do anything to prevent them from access.
The steel mesh embedded into the fabric of the bag can prevent slashing effectively. Such material will prevent unauthorized access to your bag when you leave it at the concierge or when commuting in a crowded train or bus. And even though the attempt to slash through the pack may leave it defaced, it would effectively frustrate the con.
Hidden Zippers
Some of the most popular anti-theft backpacks come with hidden zippers that make it hard for prying eyes from accessing the bag. It may be the only anti-theft security feature in some of the bags, but it may be sufficient in the majority of the time. That is especially true if you are always on the move, and there's not much time for the thief to figure out where the zipper is.
Hidden Pockets
Apart from the hidden zippers, hidden pockets are another vital feature in anti-theft backpacks. Essentially, it makes it difficult for thieves to access your precious electronics and wallet.
Tucked away at the back, the hidden pockets are most appropriate for such items as cellphone and car keys. The pouch can also be in the most interior parts of the bag. At a minimum, ensure that your ideal backpack has hidden pockets to make it difficult for the pickpockets.
Water Resistant
The best anti-theft backpack should not only keep away thieves but also protect your electronics from the unpredictable weather. Sometimes, rain can strike at any time, and it is always unfortunate if adequate protection is missing.
Some products may come with an integrated top cover that you pull over the backpack when it starts raining. You will also find the others with water-resistant materials, or even waterproof fabric. Whatever your choice, always make sure that the backpack has some form of weather resistance to keep your items safe.
The primary purpose of having an anti-theft backpack is to prevent pickpockets when traveling. in other words, you will mostly be outdoors, and weather changes can happen at any time.
Locking Cable
An inbuilt locking cable is another important feature that you must make sure not to overlook. in a real sense; the locking cable allows you to secure your backpack to a railing, the leg of the table or any other place to prevent the thief from taking it away when distracted. It is not always possible to keep an eye on the bag all the time.
Comfort
It is vital that travel backpacks have comfort features such as padded shoulder straps and back. Mainly, the bag should be as comfortable as possible, and especially so if traveling for long distances. Fatigue and strain on the shoulders, as well as the back,  can affect your concentration, and thieves can take advantage of it.
What we are attempting to say is that comfortable backpacks help keep alert to what is happening around you.
FAQ
What is RFID protection, and is it necessary in contemporary travel backpacks?
RFID blocking is the latest technology in safe travel backpacks. Substantially, RFID protection prevents the skimming of your credit cards by scammers when traveling.
In the majority of the cases, RFID blocking material is only on particular pockets, and not on the entire bag material. As a traveler, it may be necessary to ensure that the backpack has RFID protection to keep away cons and scammers from your bank cards.
Which are some of the tips to prevent pickpocketing?
There are various ways that you can prevent pickpocketing and among them is, using the anti-theft features available in some of the backpacks on the market. Lock the compartments, and only carry what you need. For example, leave your passport and other valuables such as a credit card and part of the cash in your hotel room.
The idea here is that the pickpocket cannot steal what you don't have with you. Only carry one bank card and some cash to pay for particular services such in a cafe. And if it is vital to bring your wallet, put it in a hidden pocket or an internal zippered compartment for security.
Never leave your bag unattended, even when it has the anti-theft features mentioned above. If necessary, use an internal lockable cable to secure it around the feet of the table.
Are anti-theft backpacks a good investment?
No doubt anti-theft backpacks cost more than the ordinary bags on the market. That is because they have special features such as the slash-proof fabric, hidden zippers and compartments, lockable zippers and waterproof material which you may not find in other types of backpacks.
Mainly, it is more expensive to replace a stolen mobile phone, digital camera, credit cards and passport than investing in an anti-theft backpack. You will agree that it is better to invest more in an anti-theft backpack than risk losing your valuables while on travel.
So, yes, Anti-theft backpacks are a good value for money.
Which are some of the other features that may be important in anti-theft backpacks?
Apart from the hidden pockets, slash proof material and lockable zippers, the other features that may prove valuable include a USB connection.
A USB port allows easy connection to the power bank inside the bag and allows for convenient charging of your devices while on the go. It is now official that such devices as a cellphone and tablet are now an essential part of our lives. Almost everybody has these devices, and it is only logical to have a backpack that comes with a USB port.
Wrapping Up
The best anti-theft backpack comes with a variety of features to make it hard for the pickpocket to access your valuable items. Some of these features include hidden pockets, lockable zippers, and anti-slash material. All the above backpacks have some of the best features to keep your things safe when traveling.
However, our top choice goes to none other than Pacsafe Metrosafe LS450 25 Liter Anti Theft Laptop Backpack. In particular, it has all the qualities that you would expect from the best backpack to keep prying eyes away. The bag is easy to carry, comes with sturdy fabric and is in the right size for most people.
You must admit that it is not always easy to find the most appropriate anti-theft backpack. Most contemporary pickpockets are sharp and may have the technology and tools to breach the security of the bag. Therefore, it is always vital to focus on your pack when traveling.
See Also: