We recommend products based on unbiased research from our editorial team. We may receive a small compensation at no extra cost to you if you click on a link. Read More.
The age of carrying big bags is no longer with us. People increasingly prefer small easy to access backpacks. The emphasis today is on backpacks that allow for a freer movement. You don't want something that will make it hard for you to squeeze into small spaces.
Something that makes you look as if you are ready to skate at any time is trendy. Unfortunately, there are numerous backpacks in the market clamoring for your attention. The backpacks may look similar in design, but specific characteristics distinguish them.
We have saved you the trouble of sampling thousands of backpacks by listing some of the most trendy. From the following list, you will get one best sling backpack for more freedom.
Quick Answer: Best Sling Backpacks Reviewed
Sling bags or backpack for travel?
Your choice depends on your behaviors and preference. Most people are for something convenient and easy to carry.
If you are traveling long distances, then you will need something with a strong strap. Something that will stick to your shoulder well to discourage those opportunists that love to reap where they never sowed.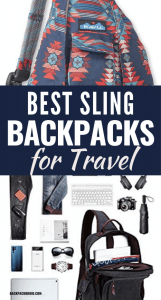 You may be among those that love to carry all the electronics you want. You never want to miss a moment to listen to your favorite jams. Also, you want to keep your friends updated on everything you are up to away from home. So you have a camera, a phone, laptop, iPad and others.
If that is the case, you will need something big enough to carry your tools of trade and backpack will be more fitting for you.
The exception is you are the type of person that loves small things. You want a small bag for just a few items. A camera and a phone may be. However, it is all up to you.
Here are our picks for the 10 top recommended sling backpacks for travel:
1. KAVU Rope Bag
This backpack takes the popular teardrop shape. The ergonomically designed bag comes with rope straps and generally fits well to your back. The rope bag comes with two vertical zip compartments.
This gives you plenty of space for books, bottles, and chargers. You can even fit in a jacket when it gets too hot. Basically, you can carry everything that you usually do on short trips. It is, therefore, more convenient and more practical than a purse.
The bag carries a stylish design that makes. You will look trendy wherever you go.
You can find a snap buckle at the bottom. This lets you unlatch the string strap in the same way you do a messenger bag. Inside the bag is a large slot where you can store your main stuff.
Beside this compartment is a zippered pocket where you can store important small objects such as a passport. The zippered pocket keeps your one important object separate from the rest and prevents it from getting mixed with others.
On the outside, there are two other pockets that you can conveniently use to store other small objects such as a wallet, keys and your phone and earphones. You can also have your iPod there. For more great products like this, check out our guide to the best solar backpacks.
PROS
A wide variety of colors to choose from.
Lightweight and sufficiently roomy
A great substitute for purses
Many pockets and zippers providing you with more storage space
CONS
The shoulder straps are uncomfortable especially if you are carrying heavy objects.
Some reviewers found the bag to smaller than they expected.
2.  OutdoorMaster Sling Bag – Small Crossbody Backpack for Men & Women
This unisex bag is small stylish for travel. You can use sling backpack as a carryon luggage or a travel backpack.
It is lightweight and has a single strap crossbody design. Furthermore, it is about 1 pound that you will not feel as if you are carrying anything. It is also spacious meaning that it can hold most of the necessary stuff such as a camera, a laptop, and iPad. It is for the trendy people.
The majority of sling backpacks on the market are prone to pickpockets. This OutdoorMaster has a hidden pocket where you keep your wallet and have a peace of mind when you are in crowded places like the train station.
There are several other pockets where you can separate your things.
For people that love single colors, this bag comes in four colors that include dark blue, green, grey and black. The straps are adjustable and padded.
There is an external bottle holder to keep you hydrated throughout your journey.
The manufacturers had lefties in their mind when designing this bag. The direction of the shoulder strap is reversible. Both the lefties and righties can use this bag. Love this product? Check out our review of the best hiking backpacks for our top picks.
PROS
Comes with a full satisfaction guarantee warranty
Has a friendly customer service
The material is strong and durable.
Many pockets that keep everything organized and simple.
Padded straps meaning that you can carry heavy things without feeling the weight.
It is pocket-friendly.
CONS
The bag is not appropriate for long trips.
Wears and tears easily.
It is not waterproof, and so you should be careful when carrying electronics
For small body people, the bag easily moves around.
3. Red Rock Outdoor Gear Rover Sling Pack
This product may be one of the best tactical sling backpacks in the market. It is quite durable to carry heavy items without a problem. It has got external pockets that you can use to store the items that you need quickly.
The bag contains one large master compartment that you can use to store your things. It is large enough to hold iPad and other kinds of the tablet. In total, there are about four compartments to fulfill all your storage and carry needs.
You need not worry if you are small in body size. The strap is easy to adjust and will fit any body size. This is the best men's sling bag backpack that will give you that rugged look. Find more great products like this by checking out our guide to the best tactical backpacks.
PROS
Red rock is made if a good quality and durable material.
Compact size and lightweight making it easy to carry around.
The inside compartment is roomy.
Comes with lifetime warranty
Attractive design
Reasonable price
An ergonomic design that rests well on your back.
CONS
Too small for some people
It is not among the best sling backpack for a laptop.
Gun compartment is small for a weapon like Glock 22.
Has a smell that some reviewers would not like.
4.  WATERFLY Sling Shoulder Backpacks
Among the best sling backpack includes the product from Waterfly. It is small and looks like it is more appropriate for women. Its design is comfortable to wear, and that is a big plus. The back slingback is easy to use and contain four pouches. You can conveniently put your gadgets in these pouches.
The main pouch can fit your tablet and iPad. It can also fit a 10" laptop comfortably so you won't have to carry an extra laptop sleeve. It has a 10L capacity so you can carry your items without any problem.
The many pockets make it easy for you to organize your items, so you don't have to keep digging within the main pocket for items in one place. Another reason this bag makes a list for best sling backpack is its price. You will not have to dig deep into your pocket to acquire this backpack.
And the best thing is that the bag is waterproof. Your devices are protected should rain decide to fall. The SBS zipper makes it easy for you to open and close the bag.
Women will find this bag useful as it is possible to fold it as well as expand it as necessary. The backpack is fabulous for hiking, biking, and jogging. It is also great for learners. You can choose the shoulder backpack from a choice of five colors.
PROS
Low price
Well built
Comfortable design
Contains four pouches
It is waterproof
Easy to use zipper
CONS
Too small for men
Not suited for left handed individuals
Not the best in its class when it comes to hiking
5. KAVU Rope Sling Bag
This rope sling bag makes the best sling backpack list easily. The first thing that grabs attention when you come across this bag is its sleek design. It is a very attractive bag for both male and female users.
The rope sling bag has one main pocket and three exteriors. The main compartment can fit your stuff such as an iPad and laptop. The exterior pockets are perfect for small items such as your charger and wallet. Your touchscreen phone can perfectly fit in this pocket.
The pockets are not hidden, so you have to be wary of pickpockets when traveling in crowded places. They are in the full glare of everyone in front of you.
The rope shoulder is adjustable, and you can adjust according to your size. What's more, the bag is quite comfortable to wear. You can go for long distances without feeling the effects of a massive bag.
It is always nice to have a bag that is easy to clean. You know how easy it is to unexpectedly spill something on the bag. The polyester material makes the KAVU rope bag easy to clean. And when the rain suddenly falls, your iPad is safe. The material is waterproof.
PROS
Water resistant material
Easy to clean
Affordable bag
Attractive design
Comfortable to carry
CONS
The color may be different from the ad.
Small for long trips
The straps are rough and feel uncomfortable on the skin.
6. Leaper Cross Body Messenger Bag Shoulder Backpack  
Some men don't like the teardrop shape on bags. It's not that they are not comfortable but because they view them as feminine. For men, this is among the best sling bag brands around.
The soft washed canvas material is very durable. This means that you are with this bag for some time before you can get tired of it. With PU leather decorations, it also has an aesthetic appeal about it. It is a bag that will give you that cool look.
The main pocket can fit a laptop of 13″ and other gadgets. It is not too big, but it serves your travel needs. If you are going on a day trip, then this bag will serve the purpose.
You can use the adjustable shoulder strap or hand handle to carry it. The rectangular shape that it carries gives it the appropriate balance and feels to use the hand handle. The bag has lots of pockets which like some of the teardrop shape bags above help you organize your gadgets and other items.
The top flap cover has buckles that are easy to operate. They also keep all your items securely inside. The top pocket on flap cover provides a convenient place to store small stuff like passports and train tickets. You need them where easy to access and return.
For students that don't carry a lot of stuff around, this is the best sling backpack for school. You can carry enough books for the day comfortably and in style.
PROS
A great gift for men, sons, and father.
Durable material
Good looking
Many convenient pockets
Reasonably-priced considering the quality
Great for carrying the laptop
Convenient as a school bag
CONS
Maybe small to carry anything else if you have a laptop
Too small for long travels
7. 5.11 Tactical RUSH Moab 10
This bag is among the best in this list for a reason. Hunter and the like love this bag for its ruggedness, ease of use and durability. The 5.11 tactical has plenty of space to carry gear and other accessories you need in whatever expedition you are on.
At 18L, you can carry your must-have gadgets and throw in some extra stuff necessary to make your travel comfortable. The sling bag is expandable meaning that it is up to you determine how you are going to organize your bag.
This is a one-shoulder carry bag for quick wear and moves along. The quick-adjust strap makes it easy to bring the bag close to the back for easier carrying. The bag does not restrict you from using one both hands. If you need to, you can utilize the cross-chest-carry.
Its design is even more appropriate for this carry method. With a few adjustments on the strap, the bag will not move around uncomfortably. And if you need to get an item from the bag, you just slide it from your back to your chest. This is easier than removing the bag.
The ballistic nylon this bag is made of is durable. It is heavy weight and high quality meaning that it will give a considerable amount of service.
There are many pouches. The concealed pouch is among them and can fit any size of the handgun. Be sure to also check out our list of the best Concealed Carry Backpacks for more great items like this.
PROS
Fully customizable
Water resistant
Cushioned shoulder strap making the bag comfortable to carry
Lightweight
Good design
An all-purpose bag
CONS
The one shoulder strap can be problematic when carrying heavy equipment.
The cost is on the higher side.
Zip can be defective.
8. Maxpedition Sitka Gearslinger
If you are looking for a high-quality bag made from one a good material the Maxpedition Sitka Gearslinger is your thing. The bag is tough would give you a considerable number years without having to ever think of a bag. At first glance, you know that this bag can easily take a lot of abuse without a problem.
The bag has an array of add-ons that promise to make your journey easy and interesting. The pickpocket lookout zipper and the several molle loops attached to the chest strap buckle make this bag a piece of work. You can choose to carry the bag on your back or on your hands.
If you are the kind person that does not like the hustle of removing and wearing the bag now and then, the bag has got your back, literary. Sitka Gearslinger can easily slide from the back to the front. The comfort you feel when carrying this bag is not characteristic of a one shoulder bag.
You get every cent's worth of this bag. It does not matter which size you are. If you are one those big guys, then this bag will not discriminate against you. It will be a good fit for you.
The bag has many different pockets. They are appropriate for those that feel that everything must be in their place. The bag also offers you concealability for some items that you don't want falling into the glare of the public. Sitka also has a gun pocket or those law enforcement officers. It will also be appropriate if you intend to use it as a hunting backpack.
PROS
Good quality material
Rugged
Comfortable to carry
Roomy
Well-constructed
Comes an anti-pickpocket feature
Good color
Comfy padding
Can fit a 15-inch laptop
CONS
The price is a bit on the high side but well worth it.
Too many pockets that would make you search items for a long time.
Plastic D-rings
9.  Under Armour Compel Sling Backpack
This bag is the second edition in the series. As a matter of fact, there is not much difference between the first series and Sling 2.0. However, if you are keen, you will notice that it is a bit lighter. Sling 2.0 is less than a pound in weight. Yes, less than a pound.
Sling 2.0 is one of best sling backpack based a number of factors. Many sling bags these days must come with the ability to carry a laptop or at least an iPad. It is the trend these days. The sling is no exception and can hold 15" laptop. This is way bigger than some of the bags in this review.
The cross body strap is adjustable meaning that it will not have to move uncomfortably about. This feature also benefits those that are above average in terms of size. And should a storm find on the road, you don't have to worry. The bag is water-resistant, and you can rest assured that your gadgets are as dry as can be.
UA Compel Sling also features a front-zip organization pocket. Here you can put some of your important items. A water bottle holder feature is important, especially if you are going on a long journey.
It comes in three colors you can choose from – white, blue or black.
PROS
Padded shoulder straps and back making pretty comfortable
Durable material
Does not sag
Very lightweight
Well-balanced weigh.
Many pockets making your organization easy.
CONS
It can slide when bending over.
The left-handed may feel the bag is not for them.
10. SEEU Sling Bag Backpack for Women & Men 
When it comes to talking about a water-resistant, then this bag is the real deal. It is lightweight, and its shoulder pocket easily fits iPhone 6. It is wear-resistant, and you will not have to return to the store in a while. That is unless to look for a bag that packs more features and is bigger.
This single strap backpack has numerous pockets. Among the 5, the main pocket can easily carry a laptop or an iPad. The back pocket is suitable for writing materials. The mesh pocket is for a water bottle of up to 500 ml.
For the small stuff such an earphone and iPhone, you have got the shoulder strap pocket.
Depending on what you prefer, you can use this product as a shoulder bag or chest bag. It is also ultra-light, scratch resistant and never fading. SEEU Sling Bag is made of high-quality polyester that makes this bag a good choice.
Some people especially the men may feel comfortable carrying a tear-drop shaped bag. Another possible downside is that it does not do well in heavy rain. You may find yourself having spoiled electronics.
PROS
Good quality material
Good elasticity
Absorbs sweat making it comfortable on hot days
Light material including the zipper.
Five pockets to help you organize your items.
CONS
Not suitable for many or large items
Not good in heavy rain.
It's design especially for men
Why sling backpack?
Sling backpacks are the trend these days. You cannot go a distance without meeting an individual carrying the bag. And it is for a good reason. Backpacks are small and lightweight. This means that they give you an easier way to carry your things.
Backpacks are a necessity nowadays, and there are many reasons why. They are numerous gadgets considered important by the current generation. For example, it is impossible for an ordinary young person to stay a whole day without login into their social media account and these gadgets help them achieve that.
To keep connected, certain devices such as a computer and a smartphone are necessary. However, that is not all there is. People are becoming increasingly dependent on gadgets and not just for communication and keeping in touch through social media, but also for entertainment.
When you are planning to go on a trip, you will need all these gadgets to make life easier for you. Not that they add any value, but it is the in-thing. If you are planning to go hiking this weekend, you need to carry these gadgets and other necessary things for the trip. However, you also don't something that will prove a drag.
You want something easy to carry along. Somewhere you can put your gadgets and enjoy your hiking, and these are where sling backpacks come in.
Sling backpacks are small, comfortable, trendy and easy to carry. They make your travel much easier and ensure that you bring along everything you need.
Backpacks are also famous because of their suitability. You strap it on one shoulder for any occasion or event without having people turn over their shoulder. Whether you are wearing formal or casual, backpacks are more fitting than the other types of bags.
Types of sling backpacks
Sling backpacks come in various designs depending on the use and features. For those that are into photography, there are backpacks specifically for that purpose.
Camera sling backpacks come different shape and sizes depending on a number of factors such as the type of camera, the place of shooting and whether you will be carrying other things such as a tablet or laptop.
There are also foldable models that help you expand or shrink it depending on the how much stuff you have to carry. These are especially appropriate for those that do not like bulky bags unless they are on travel.
There are also bags that are specifically for hiking and other running. They take into account such features as a meshed pocket for a water bottle and weight.
For those walking in public places such the train station, anti-theft bags will be more fitting. They have those features that make hard for pickpockets to get into the pocket and sow where they never leaped.
Waterproof bags are for those that are mostly outdoors with their equipment. The waterproof feature ensures that all the contents especially electronics are free from moisture that may destroy them.
You will also come across bags designed for the gym. These are the types that are comfortable especially in those that sweat often. Some gym sling backpacks have a sweat-absorbent material that makes it easy for you when working out.
Depending on the kind of bag you choose, don't go for the one with extra features to certain equipment such as a camera unless you intend to use them. There is no need to have a compartment in a bag that you will never use.

Advantage and disadvantages of sling backpack
Advantages
One benefit of having backpacks is their convenience. They are compatible for every occasion. This means that you can strap your backpack and be on your way to the office or hiking.
Backpacks are also easy to carry. At times when you are on the clock, you can quickly organize your tools and other things you need and strap on your shoulder. It is a bag meant for those on the fast lane.
When choosing bags, you need one that is comfortable to carry, and that is where backpacks come in. One-shoulder backpacks are very easy to carry. They are comfortable on your back and shoulder. You can wear and remove them when you are on your way.
Backpacks are popular with the younger generations because of their compact size and the numerous pockets they have. A bulky bag is heavy to carry, as well as, uncomfortable. The many pockets make it easy to organize different stuff on it.
Backpacks also come in a variety of designs, sizes, and color. This means that you are free to choose according to preference. There are backpacks for women. They know that some of the women don't like having big loads to carry and incorporate that into the design.
Disadvantages
Sling backpacks also have a number of limitations. Unlike suitcases and other regular bags, there is a limitation as to how much you can carry. You cannot use it if you are going for a long journey since you need to pack more than just the gadgets and school books.
Furthermore, carrying heavy items with a one-shoulder backpack can cause neck pains. They can also lead to chaffing if you are not careful with your choice. Backpacks are not for overloading. They are for the small and light stuff.
If you are traveling on foot long distances, they eventually feel uncomfortable. The pressure they exert on one shoulder can cause you to feel like you are in the wrong posture.
What to look for when buying best sling backpacks
Material and durability
Just like other products in the market, you must make sure that the material of the sling backpack is high quality. There is no need of spending cash on one bag only to return after a short time. Preferably, go for higher denier polyester, canvas, strong cotton or nylon for maximum strength.
A denier ripstop polymer material is water resistant, strong and lightweight. Bags constructed of this material tend to be durable and will give you a considerable amount of time.
When choosing a sling backpack, don't forget to check the zipper quality. YKK zippers are the best in the market and will not break during operation.
Price
Price is among the most important factors when it comes to choosing a backpack. Because price determines whether the product you go for is good quality or not. As a rule of the thumb, spend enough for a good quality product.
Cheap products are always expensive in the long run. The many bags you purchase to replace the one that broke down is enough to buy one that is good quality.
If you compare the price of sling backpack and normal backpacks, you will find that slings have a more favorable price compared to their counterpart. Before you can settle on a backpack, ensure the stitching is good regardless of the price. Avoid the single stitch bags.
Size
The size and capacity are very important when it comes to choosing a sling backpacks. Having a bag that will fit everything you want is the ultimate goal. There is no need of choosing a bag that will prove too small for your travel that you will need an extra bag.
There are people that love small and light bags. They want something that will only hold a few items when on the move. You will find both big and small backpacks in the market. Choose the one that is most fitting for you.
Consider how you will be using the bag and let that guide you. If you are a hunter, you will need a bag that will fit all your hunting tools. You will also need it to be the right size not move around on your back.
Comfort
You don't want a bag that feels uncomfortable on your back and shoulder. There is no sense having such a bag. Always go for a bag with padded shoulders and back. The weight of the bag is always on one shoulder. If it not padded, the strap would cause neck and shoulder pains.
A narrow strap can cause an injury on your shoulder and would be extremely uncomfortable. Comfortable bags encourage you to go for long distances carrying your equipment.
Fit
Bags that come with a buckle make it easy to make the appropriate adjustments. Depending on whether you are tall or short, buckles allow you to adjust the straps so that the bag hugs your back appropriately. A bag that moves around is very uncomfortable.
Check the quality of the buckle and whether it is easy to operate and if you find a bag with a waist belt, the better. A waist belt ensures that the bag does not move to the front when you bend over. A waist belt adds to the comfort and stability of the bag.
Design and features
How you are going to use the bag is the main determinant of the features that you want in a bag. For example, if you are going to use the bag in hiking, then features you will look for include a pocket to hold a water bottle.
Design and features also depend on personal preference. You may want certain features like a laptop sleeve while another may not. What matters is that the bag is serving the purpose for which you bought it for.  Among the most common features include a multi-side carry and exterior pockets.
Water resistance
Weather is sometimes unpredictable. It can decide to rain when you are in the middle of your journey, and your stuff can get all soaked up. When you are choosing a bag, go for the one constructed of a water-resistant material.
Some bags have a better waterproof material than others. For example, camera bags are better since the waterproofing material used is strong.
Adjustable
A backpack that easily folds and expands makes it easy for you to pack among your other things when you are on a long journey. Make sure that your bag is easy to pack and it will not prove a problem.
Wrapping Up
The back sling backpacks are in fashion, and everyone is going for one if they already don't have one. The above list includes some of the best bags in the market. As you can see, not one of them is 100% perfect. You need to make some tradeoffs.
Our choice among the above list of best sling backpacks goes to 5.11 Tactical RUSH Moab 10. This rugged bag wins in durability, design, convenience, and capacity. It has several pockets that make it easy for you to organize your items.
Such gadgets as tablets, iPod, iPad, and laptops are a must carry for some people on the move. The 5.11 Tactical RUSH Moab 10 takes all this into consideration and has several pockets well-designed for that purpose.