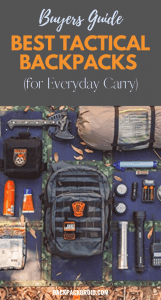 Whether you are an outdoorsy individual, a military personnel or law enforcement agent, a rugged backpack with all the right features is essential.
It can be the difference between survival, or otherwise, out there in the wild.
The backpack is, without a doubt, stylish and creates a certain macho image as you carry it along the streets – who wouldn't want to feel this? The best tactical backpack has sufficient space to carry all the necessary survival equipment and has a high level of ruggedness to overcome repeated abuse from a hostile environment and use.
Quick Answer: The Best Tactical Backpacks Reviewed
Our Top Pick
A tactical backpack is currently the best thing that, as an outdoor man or woman, you can acquire. The bag will prove the ideal companion with its many pockets, ruggedness, unmatched comfort and easy access when you are out there enjoying nature or maintaining the peace.
Well, all the bags in this review will make decent choices, however, G4Free 40L Sport Outdoor Military Backpack Tactical Backpack is our top pick among the ten.
What makes this the best tactical backpack is that it has five sizeable pockets for your gear, and is sufficiently durable to withstand the different situations it goes through. It is also quite versatile and appealing that you can use it as a school bag, a travel bag or a visiting bag.
In other words, G4Free 40L Sport Outdoor Military Backpack is the kind of bag we can refer to as a "jack of all trades."
Top 10 Best Tactical Backpack Reviews
The fact is that you will find so many tactical backpacks on the market, claiming to be the best. But as you are aware, talk is cheap and claiming does equate to quality. In the following review, we provide a list of the best tactical backpacks you will find anywhere, based on a variety factors such as durability, ruggedness, functionality, and easiness of use, among others.
Here are our top picks for the best tactical backpacks for the money:
1.  5.11 RUSH24 Tactical Backpack for Military
The bag is without a doubt, among the best you will come across based on a number of features that it boasts. It is roomy and has a high level of ruggedness that will satisfy any camper or hiker. Other features like the stuff-it pockets and dual zipper pockets will keep your backpack well-organized. But which are the other features ensuring the pack is at the top?
Ruggedness and Durability: the bag construction is 1050-denier nylon that ensures a high level of ruggedness and abrasion resistance. The side release buckles are high impact and zippers highly durable YKK brand. It simply means that the bag will be a great companion out there in the jungle. 
Other features like the tri-glide fasteners are strong and not sensitive to any outdoor climate. It means you have a reliable companion for life – come rain, come sunshine. The zipper sliders and metal grommets all have a decent coating to match the overall color of the backpack and create a high level of resistance to rusting and corrosion.
Organization: 5.11 RUSH24 Tactical Backpack for Military boasts various compartments and pockets that make the organization, a breeze. For starters, the bag has a sizeable admin compartment, sufficient to fit your outdoor essentials such as flashlight, notebook, pens, and There is also an internal mesh pocket with a zipper closure, and other mesh pockets. 
Comfort: the shoulder straps feature adequate padding for a comfortable carry. There are upper-compression straps that help distribute the weight sufficiently and avoid certain stressing situations as you climb an incline. For more similar option, check out our guide to the best hiking backpacks.
PROS
Rugged 1050-denier nylon material and other attachments
Various pockets and compartments for easier organization
Padded shoulder straps for comfort
Several body straps for stable and easy bag carry
It relatively lightweight
CONS
The pockets and zippers may be too many for some people
May not be the most ideal for casual appearance
2. Condor 3 Day Assault Pack
Condor 3 Day Assault Pack is a tactical backpack with a reputation for good design, and features for any outdoor challenge. One of its standout features includes a high-level ruggedness to overcome extreme temperatures and repeated use. It is a bag that would make an excellent outdoor companion.
Organization: one of the things that make the tactical backpack such a joy to own include large main compartment with straps to tie down the load adequately – a true winner, don't you agree? The feature helps keep everything from getting jumbled up. 
And unlike most other bags, all the compartments in Condor 3 Day Assault Pack come with grommets to help with drainage. You will be carrying water inside the pack and a mishap can happen. If there is no adequate drainage, then you would be in for a shock when all your items are dripping wet. 
Comfort: despite the significant amount of storage, the pack is sufficiently comfortable to carry. Condor 3 Day Assault Pack features highly padded shoulder straps and design. The straps are wide and will not cut into you as you move through the thicket in the wild.
The back panel has a foam pad, to create a decent cushion as you walk. It also enhances air flow as you move, preventing those uncomfortable sweaty situations. There is also a hip belt for added stability, and comfort. Don't forget to check out our guide to the best hunting backpacks that features more great bags like this.
PROS
Seven pockets for a decent level of organization
Has rugged 1000-denier nylon material
A water-resistant bag
Padded shoulder straps and back for comfort
For adequate drainage, all the compartments have grommets
CONS
The zipper pull-tabs are not that durable
It may not be the best for short people
3. REEBOW GEAR Military Tactical Backpack
If you are among those that love the macho feel that comes with tactical equipment, then this might be the best for you in that regard. The 40L military backpack has the ruggedness, design and the feel that easily complements the image you want while serving your needs sufficiently. The bag has all the right features to keep any outdoor guy excited.
Organization: the bag has several compartments and pockets that make organization easy. There is a molle system that allows you to attach pouches for additional storage. It is hydration compatible, especially ideal for hikers, and others that love the outdoor life. The main compartment is sufficiently deep for some items such as ponchos and blankets – important to ensure sufficient organization.
Comfort: just because the bag is high-density fabric does not mean that it is tough on your skin. The bag out pack has sufficient padding at the back and shoulders. The ventilated and padded back panel allows sufficient air circulation for comfort. 
Ruggedness and Durability: with this bag, you don't have to worry about abrasion and another kind of stress that would damage ordinary bags. Bag out bag is all high-density fabric that is water resistant and durable. You can be sure that all your stuff is secure and in good hands. 
Other features for increased durability include double stitching, heavy-duty attachments, and a front and side compression system.
PROS
Molle webbing for attaching additional gear and pouches
It is hydration compatible for life in the outdoor
A versatile backpack to use as a range bag, bug out bag, hunting backpack and assault pack
A 40L capacity for carrying all your stuff adequately
Many pockets for easier organization
Well-made and durable
Perfect design as a bug out or tactical bag
Adequate straps for adequate organization
The bag is water and weather resistant
Has good customer service
CONS
May not be ideal for placing under the seat in a plane, especially when full
Some compartments become small when you pack the pockets fully
The zippers may be the first to give
4.  SOG Ninja Tactical Day Pack
The bag is ideal for those after a decent bag with tactical features. It is not too big and hence ideal for various occasions. The pack has such functional features as a hydration bladder to keep you from getting thirsty while on the go.
Organization:  among the great features the best small tactical backpack boasts include the many pockets that make organization effortless, but that's just a tip of the iceberg. The bag has a hydration pack and molle webbing, to say the least.
It has a sizeable main component where you can put your laptop or other things necessary for the activity you are doing. The hydration pocket ensures that you have all the necessary water to last you the entire camping trip – water is critical.
There is also a side port to ensure you never get thirsty – the hot outdoors can sometimes take the best from us through heat and thirst. You will also find molle webbing and side compression straps for additional storage space when the current one is not sufficient. You can attach additional pouches to carry more stuff and be self-sufficient.
Ruggedness: The compact and lightweight tactical backpack is heavy-duty polyester material for abrasion resistance and high-level durability. It also has a water-repellent construction and durable zippers and buckles.
Comfort: apart from the padded shoulder straps, the bag also features a mesh and padded back for enhanced comfort. No more uncomfortable and sweaty backs as you climb that final hill to the camp.
PROS
Compact and lightweight
Made from rugged high-density polyester material
Big main compartment providing sufficient storage
Hydration pack to keep you hydrated
A side port that easily stretches to fit most bottles
Highly padded shoulder straps for carrying comfort
Molle webbing and compression straps
Has a padded mesh back for adequate ventilation and comfort
Grommet drainage to keep your gear free of any spilled water
CONS
The zippers and buckles are plastic and may break under pressure
May not be large enough for some people
5.  5.11 RUSH MOAB 10 Tactical Sling Pack Backpack
The backpack is another bag that would make a decent choice any day. 5.11 RUSH MOAB 10 Tactical Sling Pack is lightweight and sufficiently compact, making it ideal for a variety of outdoor activities. In other words, this is a bag that you can use as a school bag, hiking bag or a camping bag.
Ruggedness: the unit features a rugged nylon material for a high-level It means that the bag will be your long-term companion as connect with nature.
Comfort: it comes with a cross-body strap that is fitting for the bag design. The bag also features several compartments for the easier organization – you can carry all that will make your outdoor adventure, interesting. It has additional straps to hold the load sufficiently. However, some people may not comfortable with the cross-body design. It may feel as if it is digging into the neck.
Organization: the bag comes with a concealed pistol compartment for law enforcement agents, and others that carry guns. It also has a hydration system for your water – a hiker is nothing without sufficient water to keep hydrated. To make the bag comfortable, the straps are fully adjustable and padded. It means that they will not cause shoulder cutting pains as a move to your eventual destination. For more amazing bags like this, check out our guide to the best sling backpacks.
PROS
Compact and lightweight
Rugged nylon material
A cross-body shoulder for easy carry
Coms pocket to keep the music going as you head to your destination
A concealed pistol compartment
It is a versatile bag that you can use as a tactical bag, school bag or even a vacation bag
Padded and fully adjustable shoulder straps for added comfort
The bag is water-resistant
CONS
The sling backpack strap system may not be the best for heavy loads
It may feel uncomfortable on the neck
The design may not be easy to allow you to exchange shoulders
No cross straps for efficient weight distribution
6. Explorer Tactical Gun Concealment Backpack
The bag is among the most comfortable backpacks you will find anywhere. But what is special about this unit, and what makes it that comfortable? Basically, the pack has various cross body straps that make carrying the load easy. It is a bag that any tactical personnel or outdoor enthusiast will love. But what are the other features worth a special attention?
Organization: tactical personnel needs bags with easy access pockets for their items. Any first responder will find the front zippered pockets quite functional. The pack also features two top handles and four side pockets. 
And if you are a gadgets person, then this bag has pockets for the sunglasses, for the iPhone and others. The bag also features many pockets for your items. You will also find a laptop compartment, especially for those that can't leave their work behind. The tactical backpack also has two pouches for guns – well-hidden and may take some time to find them. And of you want to bring clothes and other stuff, there is one main large compartment for that purpose. The compartment can also fit your clothes and scarf for those cold evenings.
Comfort: the padded straps are a source of adequate support and comfort. The front molle strap also makes it easy for you to carry. Another important feature that makes the bag easy to carry is its weight – it is only 3lbs! 
Ruggedness: with the 600D x 600D polyester material, the bag has a high level of ruggedness. The material is also abrasion resistant, as well as, water resistant to protect your items against damage.
PROS
Has many pockets for easier organization
Comes with additional pockets for your gadgets
A Velcro cover conceals the front pockets
Hydration-ready pack
Has a laptop compartment
600D x 600D polyester material for a high level of ruggedness
A 3-liter hydration compartment
Weighs 3lbs and, therefore, lightweight and easy to carry
A decent choice for hiking and tactical purposes
Can hold up to 50lbs of items
CONS
The design may not be the most appealing
Its inner lining may come off after a period of continued use
7.  G4Free 40L Sport Outdoor Military Backpack Tactical Backpack
Unlike most of the other tactical backpacks that have an unappealing design, this is an exception. The pack has an appealing design that any outdoor man or woman will not mind adorning. It is also something that will turn admiring gazes your way as you pass along the street.
The following are other important features that you will love.
Organization: the bag features five compartments for easier organization of your items. It also has three spacious compartments where you can put your essentials such as a pair of clothes, iPad, and others you will require for your favorite outdoor activity. You will also find small pouches for other small items like keys and credit cards. 
Like other serious tactical bags, this unit features a functional molle system for more expansion room – you don't have to leave some items behind. 
Ruggedness: made of 600D nylon, you can agree that the bag is among the most durable. The material is high intensity, and will sufficiently protect your items from damage.
Comfort: the professional design incorporates a back panel with comfortable padding – your back is very important and it needs protection. There is also a ventilated mesh padding to allow free flow of air on your back.
There is a hip belt and chest belt to keep the bag in place as you descend the mountain – you cannot imagine a bag that sways from side to side as to you try to balance on a makeshift bridge. Love this product? Check out our review of the best concealed carry backpacks for our top picks.
PROS
Up to five compartments for your items
An appealing design for the outdoors
Rugged 600D nylon material
Three big compartments for your most important items
Small pouches for the small stuff
Molle system to provide more room for expansion
A ventilated mesh padding at the back
Versatile and ideal for traveling, hiking, camping and for use as a school bag
CONS
The zipper may easily break and so care is necessary
Some reviewers say that the bag easily rips at the seams
8. ARMYCAMOUSA 40L – 64 L Outdoor 3 Day Expandable Tactical Backpack
There are several reasons why many people prefer tactical backpacks and among them is their comfort. The ARMYCAMOUSA bag is by definition, quite a comfortable bag that you can carry for hours as you trek to your destination. But comfort is not the only highlight feature.
Comfort: the ARMYCAMOUSA tactical backpack comes with padded shoulder straps for a high degree of comfort. The bag has a strong handle that you can opt to use on short distances – quite stylish!  The bag has a removable waist belt that you can easily use to stabilize the bag as you navigate the steep incline to the top – nothing should come in the way of your run to the top.
Capacity: without prejudice, the backpack is among the most sizeable of backpacks but how is that possible? Well, its original capacity is 40 liters. It is expandable to 48 liters and you can bring along an extra blanket as you go camping.
Organization: the bag has several pockets that you can use to throw your important items for the trip. And to ensure you are always hydrated, there is a meshed water bottle pocket – quite convenient! You will find a pair of pockets on the shoulder straps for your electronic devices such a smartphone – you need it to keep in touch with others.
Ruggedness: you are probably aware by now that 600denier polyester is among the most ideal for tactical backpacks and the reason is obvious. It is rugged and water resistant. That means your stuff will be protected from the elements and you enjoy the long service of use.
PROS
Padded shoulders for comfort
Expandable from 40L to 48L
A strong top handle
Features a meshed hydration pocket
Weighs only 3.6lbs and so quite lightweight
Made of 600 denier polyester for durability and abrasion resistance
Heavy duty tabs and zippers
CONS
It may start to come apart at the seams after a period
The water bottle mesh pocket may not be very durable
Its lining may start to rip off
9.  Seibertron Falcon Water Repellent Hiking Camping Backpack
For those that have a lot to carry, the molle design in army tactical backpack is ideal. If you have several items to carry on a hiking trip or hike, you will need a bag with sufficient space and reliability. Seibertron Falcon Water Repellent Hiking Camping Backpack is the real deal when it comes to capacity, easy carry, and design.
Comfort: you will find a waist belt and chest belt to make the bag easy to carry. It has padded shoulder straps and back panel. There are also security straps to lock your stuff in place as you move to your destination. 
Ruggedness: the construction of the bag is 900D material for durability and sufficient abrasion resistance. And unlike some of the bags on the market, the pack is highly water resistant.
Capacity: the waterproof tactical backpack has one of the hugest middle compartments on the market. That means you can carry everything you need including a blanket for the chilly nights. The bag has many molle loops to help with the expansion of the bag – good news for those that can't leave behind some stuff behind.
There are two small compartments in the middle to carry the small stuff that you have with you. The bag's meshed interior is expandable. It means that you are free to load the bag to the maximum with your best items, you need when camping. For more great products like this, check out our guide to the best solar backpacks.
PROS
Has a 900D waterproof material to protect your important stuff
Comes with a waist belt and chest belt for easier carry
Features a molle design
Water resistant
A multifunctional backpack
Expandable meshed interior
The backpack is affordable
CONS
The zipper may let in water from a light rain
Does not have a water bladder
The quality of the zipper is not the best
10.  Direct Action Dragon Egg Tactical Backpack
If you are after a special tactical backpack to complement your law enforcement activities then you should look no further than Direct Action Dragon Egg Tactical Backpack. The backpack will sufficiently fulfill your needs and even go over and beyond since it is highly versatile.
Organization: the backpack features side pockets that you can store some of the items you need for the activity ahead of you. Interestingly, the side pockets are expandable for additional space that you may require. It has a molle system that you can use for additional space – there are those times that we need more space for additional equipment to make our life a little more comfortable, out there camping. The bag also has a laptop compartment so that you don't have to leave your work behind.
Comfort: the black tactical backpack has an innovative vent system that ensures your comfort as you hike that last mile into the desert. It is quite lightweight, and which is great since you don't have to struggle a lot carrying it. It has an airy mesh that keeps your back dry even as you hike through the desert. The eggs shell design that the bag has makes it easy to carry by reducing the overall height of the bag. 
Ruggedness: since the bag is fully Cordura 500D, it can take abrasions and other stress that you pick along the way. The bag has molle system that does not absorb water, keeping your stuff dry and safe.
PROS
A dedicated tactical backpack
Side pockets for easy organization
Elastic side pockets for expandability
Has vent system for enhanced comfort
Features a molle system for additional space
It is lightweight and hence easy to carry
It is water resistant
Cordura 500D durable material
The bag is very versatile and you can use it for every occasion
Has a laptop compartment
Eggshell design for easier carrying
The pack is quite versatile and you can use it for a variety of activities
CONS
Has plastic buckles that are not too strong
The main compartment may not open fully
Zipper grips may not hold up for long
What to Look for when Buying a Top Rated Tactical Backpack
It can sometimes prove an uphill task when it comes to determining which backpack is as it claims to be. But how do you separate the wheat from the chaff?
In other words, which are the factors that will lead you to your right tactical bag to fulfill your needs?

Comfort
A tactical backpack should, among other things be comfortable. In the majority of the time, the backpack will be on your back. As a result, it can prove a hindrance or it can make your expedition into the wild, an easy task. You can imagine carrying a heavy load with thin unpadded straps. It would be a nightmare.
If on a hunting expedition, stealth and comfort go hand in hand. You cannot have a bag causing unimaginable pain to your back and expect to outsmart the big game who is at their best in the wild.
But which factors determine the extent of a bag's comfort?
For starters, extra-wide straps contribute to the comfort level on a bag. They distribute the weight adequately, and have a soft padding – they are critical features in a tactical backpack. The straps should demonstrate a decent level of adjustability to help vary the load, reduce movement and any chances of discomfort.
You will find sternum straps on these backpacks running across to ease the pressure on your shoulders – they also need help with the load. There's also a lumbar strap with the same function as their counterparts. But unlike the sternum straps, lumbar strap fastens across the hips, taking the pressure off the shoulder and stabilizing the bag. Some decent choices boast air channels that provide the necessary ventilation to your back, wicking any uncomfortable and sweaty situations, thereby making your tactical backpack easier to carry.
Capacity
How much a bag can carry is critical.
Determine the need for which you want your ideal backpack to fulfill before you can settle on a particular variety. It would be nothing short of a disaster choosing a small backpack that cannot fit all the necessary supplies you require for the hunt or other activity.
If you are a hiker, you will want a pack that fits all your stuff that helps you survive the outdoor situation. You will need adequate space for the food, water, a tent and even a change of clothes – you know the things you need to make your hiking comfortable. In most cases, a 30liter bag is ideal for shorter trips and 40liter for a few days' trips. Other factors that will determine your ideal capacity is stature. A short guy can never feel comfortable in a big pack, the same way that a tall hiker will not feel okay with a small pack.
Construction
What separates tactical backpacks from other varieties is their ruggedness. Tactical backpacks should be among the most durable on the market and their construction material should be tough. Anything other than that is inappropriate. One of the most common tactical bag materials is nylon. And unlike other materials, nylon is light and strong. The material is good for making the bag water resistant.
Polyester is another artificial fabric that can easily match nylon in terms of durability and strength. However, polyester proves a better option when it comes to blocking UV rays. The material is wrinkle resistant and easy to clean because of the smooth surface.
There's also rip-stop nylon that is more durable than the normal nylon material. The material is breathable and strong. It is abrasion and tear resistant, making it ideal as a tactical backpack material – the goal is to have something that will withstand the tough environment you come across.
Canvas is another common material, natural and heavier than the others on the list. The material is durable and breathable. And apart from having a high level of abrasion resistance, the canvas is resistant to insects and microorganisms, making it ideal for hunters and campers going deep into the wild.
In most cases, the choice of material is down to personal preference.
Organization
A good backpack has the right features, such as compartments and pockets to keep your stuff organized and easily accessible. It would be nothing short of an inconvenience if all your staff were all in the same compartment. As a hunter or hiker, it would be a safety risk throwing your hand inside the backpack and trying to fish for the penknife in the midst of other stuff.
A well-organized bag, with pockets and components, reduces the time you spend searching for something.
Color and Scheme
Depending on the activity you will be using the bag on and, of course, preference, choose the color and scheme of the backpack accordingly. There are many color patterns, and color schemes and not all of them may be ideal for the activity you will be using them for.
For example, you cannot expect to be successful out there on the hunt, carrying a very conspicuous backpack – you might as well go singing your favorite song as you track the buck! Hunting and military missions require something inconspicuous to reduce chances of getting noticed – stealth is critical for success. However, you may choose any color for hiking and other outdoorsy activities.
In Fact, color schemes that stand out are even better as they enhance your safety as you walk to your destination, and fulfill your objective.
Design
There are different bag designs, and the right one for you is also down to needs and preference. If you are a college student, you will still need a backpack with the right features to make your college life a little bit easier – something like a laptop compartment, pocket sleeves for the stationery and other little stuff.
Other Features
There are still other convenient features that you may like on your tactical backpack such as extra foam for added comfort, and integrated hydration.
FAQ
What is the meaning of a tactical backpack?
The term tactical is common in the military, first responders and law enforcement. Tactical backpacks have all the features that any hiker, camper or hunter would like. The bag offers easy access to tools and equipment while in the process of fulfilling an outdoor mission or activity.
The pack is easier to organize, which allows easy access, and is tough to protect the things inside the bag. Abrasion resistance is the term that you will often hear describing tactical backpacks, and it refers to the ability of the material to resist scratches and stress related with dragging – not that you will be dragging the bag along.
How do you use a tactical backpack?
Tactical backpacks come with the right features to withstand a significant amount of stress and other hazards. They offer easy organization of equipment and quick access in the most critical of situations. Using tactical backpacks is not rocket science and you only need to organize your equipment appropriately.
Where do I buy a tactical backpack
There are many brick and mortar stores where you can buy a tactical backpack. However, there are more convenient ways of getting your bag, and it is through the online stores. The benefit of buying from an online store like Amazon is that you get to easily compare the prices, read what users are saying about the product and allow easy checkoff.
The disadvantage of online shopping is that you don't get to feel the quality of the backpack as you would with a physical store.
Which are the most important features on a tactical backpack?
The features that make a tactical backpack standout include ruggedness for abrasion resistance, sufficient pockets, and compartments for easier organization and access. The best backpack should be comfortable and easier to carry with padded back and shoulders – you don't want to experience a cutting feeling on the shoulders when the straps are too thin and uncomfortable. Other important features include capacity and color scheme – these mostly depend on the activity you will be using the backpack on.
Which are the care tips for a tactical backpack?
Just like your typical backpack, you need to clean your rugged backpack from time to time, to ensure it lasts for long – you know these items don't come on the cheap. Cleaning is usually minimal but necessary to remove the dirt that may wear the fabric off.
You also need to remove the odors from the food and drinks you carry, and which may take residence on the backpack. Typically, every tactical backpack comes with clean instructions; follow them to avoid doing things that will harm it.
Some of the important tips include vacuuming the backpack to get rid of the dirt and other loose debris quickly. Then use a mild detergent to spot clean, and a brush to remove any stubborn stains. After cleaning the compartments and the pockets, use a dry towel to wipe down the inside, and brush to take care of the areas still dirty.
How often should I clean a tactical backpack
You should not wait for too long when the dirt accumulates and becomes too stubborn. Ideally, you should clean the backpack after every use. It should be easy and would not take too long to clean – the dirt is not stubborn at this point.
Wrapping up
The best tactical backpack has all the right features to help the first responders and tactical personnel complete their tasks successfully. For example, they have easy access pockets for the items they need in real time.
However, these bags are becoming a trend and hikers and other outdoor lovers are finding them functional and fun to have around.
A backpack like G4Free 40L Sport Outdoor Military Backpack has several pockets and compartments where you can keep your stuff organized and easily accessible. It is abrasion resistant, comfortable and durable – something that every individual would love.