We recommend products based on unbiased research from our editorial team. We may receive a small compensation at no extra cost to you if you click on a link. Read More.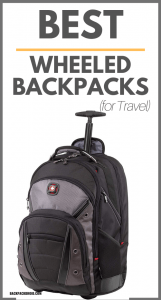 One of the biggest challenges that travel junkies face the world over is the back-breaking task of carrying a backpack on their backs. It is one of the most unpleasant experiences for any traveller.
Fortunately for everyone, there are always wheeled backpacks for travel. Typically, the bags make the task of moving around quite effortlessly and enjoyable. But not to burst the bubble, it is not all wheeled backpacks that are appropriate.
In the following discussion, we identify some of the best sellers on the market, and we tell you why they could be ideal for you. Let's check them out!
Our Top Pick of Wheeled Backpack
Wheeled backpacks are some of the most convenient and comfortable to use bags. We cannot dispute that there are various good quality bags, but our favorite is Samsonite Wheeled Backpack.
Typically, the wheeled backpack comes from a reliable brand, and you can be sure of quality and durability. The ripstop fabric protects all the items inside the bag from the elements, and shock. You will find a laptop compartment, with good padding to protect it adequately.
Other great features include an efficient zipper, comfortable shoulder straps and back, as well as the telescoping handle with a comfortable handlebar. We must admit that the wheeled laptop backpack is also attractive, and a source of confidence for anyone.
Top 9 Best Wheeled Backpacks Review
Undoubtedly, there are various top brands on the market when it comes to wheeled backpacks for travel. However, it is always a challenge to find that one particular unit that fits our budget and has everything to make your travel convenient. Here are some of the popular wheeled backpacks but you will definitely like since most of the users do.
1. Samsonite Wheeled Backpack
Samsonite is at the top of the list of some of the most reliable backpack brands. That said, you know what to expect from this wheeled backpack.
Durable and Lightweight
The ripstop fabric on this Samsonite wheeled backpack can take a lot of abuse, and still maintain a top condition for a long time. The material is resistant to pulls and tears to be just what you need when travelling.
The inline skate wheels are durable and move smoothly to make your travelling, effortless and enjoyable. You don't have to do the heavy-lifting associated with long travels, and that is the primary goal.
Comfortable
Among the various features that make this wheeled backpack comfortable include the ice pick handle. It is easy to hold and has a particular texture that makes the grip comfortable.
And of course, inline skate wheels contribute to a comfortable movement, and you can maneuver across large crowds with so much ease.
The padded contoured straps are another excellent source of comfort in this backpack. They are easy to use, and entirely adjustable when you need them to. Mostly, travelling was never this easy.
The rolling backpack only weighs 5 pounds and therefore lightweight, and easy to carry. It is a backpack that perfectly blends durability, comfort and lightweight design to make it the best. It is not always that you come across a durable and lightweight bag.
Organization
The backpacks are never sufficient without various pockets and compartments for organization. Of course, you'll be travelling with a few small items such as your music player or mobile phone. The Samsonite backpack comes with various pockets for technological devices.
But apart from the small pocket where you can put your MP3 player, there is also a laptop compartment with sufficient space for a 17 inch. That means you can get some work done as you travel.
There's also a music headphone entry that makes it possible to churn out the beats and make everything enjoyable. Of course, travelling is more enjoyable with some form of entertainment.
More importantly, the wheeled backpack has more room for a few days travel. That means you can bring some of the essential stuff that you need when traveling. Be sure to also check out our list of the best rolling tote bags for teachers from our list, so be sure to check them out.
Features
Made from ripstop fabric
Only weighs 5 Pounds
Durable inline skate wheels
Organizational pockets for the technological stuff
A 17-inch laptop compartment
2. High Sierra Unisex Powerglide Wheeled Laptop Backpack
The best thing about this wheeled laptop backpack is that it is one of the most versatile. You can use it as a college backpack, travel backpack and everything else you can think of using it on.
Durable
The best quality wheeled backpack should have durable materials to overcome the abuse associated with constant use and contact when travelling. The material on this backpack is 600D polyester, which is both lightweight and durable.
The wheeled backpack also has an attractive design that will impress most people along the way.
Multiple Compartments
The backpack has one large compartment that comfortably fits all the necessary items that you need when travelling. You, therefore, don't have to leave the essential items such as documents, a few clothes and a warm jacket.
The multiple pockets inside the backpack make it possible to keep everything organised even as you travel from one place to the other. There is sufficient space for the mp3 and other items that you consider necessary for comfortable travel.
There is more space inside in the various pockets where you can keep the stationery. The pockets are also for smaller items such as your car keys and other stuff that you need to be secure such as your wallet.
You will find a media pocket that fits sizeable headphones to keep the beat going even as you travel. There is also a padded laptop compartment that fits the 17-inch models, comfortably. A laptop is a necessity in the contemporary business environment.
Comfortable
And despite the polyester material being durable, it is not quite uncomfortable on the skin. Essentially, it is the perfect weight for college going students and ardent gamers who are mostly on the road.
The design and back support is sufficient to ensure comfort when travelling. You will find the telescoping handle to be quite easy to use, and comfortable as well. If you love this product, make sure you also check our guide to the best concealed carry backpacks.
Features
A 17-inch padded laptop compartment
Durable polyester material
Various compartments and pockets for organization
Telescoping locking handle
Padded shoulder straps
Zippered side pockets
Padded grab handle
3. JanSport Driver 8 Core Series Wheeled Backpack
One of the most apparent features on this wheeled backpack is its attractive design. In our opinion, the bag has the aesthetics for outdoor travel and is available in a variety of colors. You choose the most appropriate for you.
But is that all there is about the wheeled backpack? Of course not!
Comfortable
You can expect a wheeled backpack to be comfortable, especially when it comes from a reliable brand. The retractable two-stage handle is easy to use, and therefore suitable. The same case applies to the padded grab handle.
All the zippers on this wheeled backpack are some of the best quality, and therefore efficient. Getting anything inside the bag is as easy as it can get, and that's how it should be.
Durable and Aesthetically Appealing
The manufacturers are ready to repair or replace the wheeled backpack in case of anything. It comes with a lifetime guarantee, which is better than anything else. The quality of the zippers is top-notch, and that is a good thing.
Apart from the fact that the backpacks are available in a variety of colors, straps and other features come in different colors to match your favorite theme. It is the kind of bag that you will feel comfortable and confident to use outdoors.
The backpack is versatile, and therefore appropriate for school, business travels, and leisure travellers among others.
Organization
The backpack comes with two compartments with sufficient room for all the stuff that you need when travelling. There is also a 15-inch laptop sleeve to bring along the office with you to get some work done.
The organizer and utility pocket are other vital features that make it possible to organize your stuff and make your journey enjoyable. There is sufficient space in the pockets for the small items such as an MP3 player, and other media equipment to make the journey relaxing and memorable.
The bag also has a functional water bottle side pocket keep you hydrated as you move through the streets to your destination.
Features 
Nylon material
Lifetime warranty
Durable zippers, fabric and straps
Effective inline skate wheels
15-inch laptop sleeve and two spacious compartments
It has various pockets for easy organization
4. Everest Deluxe Wheeled Backpack
The rolling bag is not only attractive but functional as well. It is multi-functional and easy to use for a variety of outdoor activities.
Comfortable
The rolling pack is undoubtedly ideal for carrying heavy loads from the airport and other places. The sternum strap and padded straps help distribute the weight appropriately to be comfortable when travelling.
The padding on the straps is quite sufficient to prevent shoulder pain and other discomforts associated with carrying heavy loads. The straps are broad as well.
Durable
What makes this wheeled backpack ideal for the daily outdoor adventure is the quality of the materials and wheels. The sternum straps and padded straps are sturdy and comfortable to use. The telescoping handle is convenient to use, and quite durable as well.
The high-grade canvas protects all your items from the elements to keep everything safe and secure as you travel.
Additionally, the double wheeled base is robust and quite functional.
Organization
One of the most important features about this \backpack is its sufficient space. You can carry a change of clothes and other important stuff that you need when travelling.
The multiple pockets on the inside and outside help keep everything neat and easily accessible. A large main compartment is ideal for carrying various items. The easy-glide zippers make everything comfortable when travelling.
There are three side pockets and five front pockets to provide sufficient space for all the stuff that you need quick access to. For example, you can put your smartphone on the side pocket and your car keys on the other when on the road to your destination.
You can use the compression straps to keep everything in place, and the load well-balanced.
Be careful what you put in these external pockets, especially when using public transport, and along the busy streets.
Features
Easy-rolling
Double wheeled base and telescoping handle
Easy-glide zippers and a large main compartment
Compression straps to keep everything in place
Sufficient 27.9-litre capacity
5. Matein Waterproof College Wheeled Laptop Backpack
This wheeled laptop backpack is undoubtedly one of the most functional on the market. It has a myriad of features and that every traveller or college going students will find useful. We must also mention that it is quite attractive.
Durable and Attractive Design
The design of this wheeled laptop backpack is undoubtedly top-notch. You will find the aesthetics and the position of the pockets to be perfect.
Comfortable
Backpacks should be comfortable to carry for long distances. The laptop backpack has various features that make it comfortable. For example, the airflow back, and padded adjustable shoulder straps ensure that you are comfortable when travelling.
Organization
The internal separate padded laptop sleeve can comfortably fit a 15-inch laptop. It provides adequate protection to your computer from the shocks and knocks that may come your way in a crowd.
The large main compartment is sufficient for a change of clothes or a good number of college books. Therefore, you may not need any other backpack or storage space for extra stuff. You will find a second zippered pocket where you can put more books or an important document.
There are numerous pockets to provide sufficient space for all the items that you need when travelling. For example, the space for that MP3 player and other important stuff that makes travelling pleasurable. You can as well put stationery such as pens and pencils.
The mesh water bottle pockets on the side make it possible to carry water for long journeys. You can as well take a small towel inside the small Velcro pocket at the back. Don't forget to check out our guide to the best fishing backpacks.
Features
Internal and separate padded laptop compartment
Sizeable main compartment for books and other important stuff
Various pockets for the small items
Organizer pockets for easy and quick access of your items
Air mesh back and padded straps
6. Vera Bradley Women's Rolling Backpack
The attractive printed peach finish is one quality that stands out when you come across the rolling bag. Typically, it has this feminine design that most people will find exceptional.
Attractive and durable design
The printed design is one quality that appeals to the feminine nature of individuals. And depending on your preferences, the rolling pack comes in different colors, though they are not very many.
The stylish and innovative brand is fitting for a variety of outdoor activities. It never seems out of place in any way, despite making you stand out.
The perfectly placed pockets are convenient and contributed to the overall attractive design. It is something that most people want to find in a rolling bag.
The zippered exterior pockets have a particularly unique design that appeals to many people.
It is not always that you come across a double padded laptop compartment in a backpack. You can, therefore, be sure that your expensive laptop is safe and secure, wherever you go.
Organization
The manifold pockets that make it possible to keep everything neat and organized. The interior laptop sleeve has sufficient padding to protect the laptop from the shocks associated with movement.
Double zippered interior pockets provide additional space for your items as you travel. The slip pockets are also at your disposal for convenient and quick storage of your items.
Comfortable
The wheeled backpack has adjustable straps that are wide and comfortable on the shoulders. Other features that contribute to comfort include a flexible telescoping handle and durable as well as efficient rolling wheels.
It is carry-on compliant, and therefore one of the most convenient for travel. You don't have to check in your luggage at the airport, and you can have the essential items with you inside the plane, such as a laptop and music player. It can also pretty much be a wheeled backpack for Europe travel given the dimensions that comply with various regulations.
The grab handle is compatible to use and convenient. And together with the rolling wheels, your travel will be more comfortable and fun. You will find that the telescoping handle goes as far as you want it for efficiency when travelling.
Features
Attractive printed peach finish
Numerous pockets and compartments for easy organization
Separate padded compartment for your laptop
Extending trolley handles and convenient wheels
The backpack is carry-on compliant
7. J World New York Sundance LAPTOP Rolling Backpack for Schooling & Travel
The attractive pattern or floral design is one of the features that make this backpack one of the most appealing. The design is innovative as well, and it contributes to a comfortable carry.
Durable and attractive design
The attractive print is available in different designs and colors, and you can choose the most appropriate for you. The external pockets and the zipper closure are all in the perfect position for aesthetic appeal and contribute to secure access to your items.
For optimal durability, the material is 600D polyester. It is secure and does not give in even after using it for a significant amount of time. The heavy-duty polyester can take a lot of abuse associated with constant travels.
All the material is water-resistant to protect the items from the elements of weather. Furthermore, the three-stage aluminum locking is rust free.
Organization
The backpack has various pockets and compartments to provide sufficient space for your items. Essentially, there is space for books, the small stuff such as keys, and everything that you need when travelling.
Comfortable to Carry
The wheeled backpack is 20 inches high and 13.5 inches wide, the dimensions that make it easy to pull and carry. The air mesh cushion plus the shoulder straps with adequate padding are the two features that make it easy to carry.
It also features reflective tape that enhances visibility in low lighting conditions. You will find a single handle at the top with padding for comfort when moving. There is also a padded computer compartment to protect your device from the shocks.
For your pencils and other items, you will find a front organizer that is easy to use. An additional zipper pocket provides more storage space for the small details to keep everything neat.
Features
Durable polyester material
Fabric lining for Comfort
Zipper closure
Padded laptop compartment
Reflective tape
Air mesh cushion
8. AmazonBasics Convertible Rolling Camera Backpack Bag
The convertible rolling camera backpack is as versatile as they come. It has a nice-looking and compact design that is easy to carry. The pack can help haul all your camera gear and other necessary equipment.
Design and durability
The rolling camera backpack is not too big like some of its counterparts in the market. It is perfect for backpacking and pushing behind.
And even though it has sufficient space to carry loads of camera gear, It can take other equipment and clothing as well. The backpack is versatile, and you can use it as you wish.
The rollerblade wheels are both efficient and durable to take a significant amount of use.
The camera backpack comes with a durable telescoping handle that makes it easy to move around.
Comfort
The quality of the rollerblade wheels is top-notch. The wheels are durable and move efficiently without a problem. Whether it is across uneven terrain or on pavement, the wheels are quite efficient.
The Amazonbasics will fit comfortably in the most airplane overhead storage. You don't need to check it in. It also comes with modifiable and padded shoulder straps to get the right fit and be comfortable as you travel.
Organization 
The internal compartment distinctly holds all the necessary camera components. There is no unnecessary movement that can destroy delicate accessories. It has a padded compartment to ensure that everything is safe from the shock associated with movement such as shoving.
Features 
It has a padded compartment for cameras and accessories
Padded and adjustable shoulder straps
Durable material and zippers
Small pockets for small accessories
Durable telescoping handle
9. Tilami Rolling Backpack Armor Luggage School Travel Book Laptop
The unit is durable and highly functional. It is easy to use and has various compartments as well as pockets for easy organization. The backpack can pretty much be your favorite any day.
Design
The personalized design is one feature that stands out pretty well. The wheeled backpack design has adequate support from the various external pockets, and they do a good job. It looks unique and comfortable as well.
The big storage capacity makes it possible to carry a lot of stuff that you need on your journey. Think about several changes of clothes and other important stuff that you need on a business trip. It is also appropriate for school and other outdoor activities.
You will notice that the backpack has a unique armor protection system at the bottom. The purpose of this unique system is to protect the pack from collision and extend its life.
It is also worth highlighting that the backpack has a suitable size acceptable for all US airlines. You may not need to check it in.
Comfort
The backpack is also comfortable to carry with wide and adjustable shoulder straps. You will notice that the bag has a wheel cover to protect you adequately when hauling it on your back.
The carry handle is comfortable on the hands, and you don't need to worry about significant stress to them. The zipper system is quite efficient, and it allows you quick access to your items when you need them.
Organization
The backpack has several compartments and pockets for your stuff. You can, therefore, keep everything neat, and where they need to be. There is one large compartment where you can put most of your stuff, such as clothes and big books.
Features 
Efficient zipper closure
High-strength aluminum alloy rod
Padded pocket and personalized shoulder straps
Big storage capacity for your items
What to Look For When Picking a Wheeled Backpack for Travel
Of course, your ideal backpack is subjective. Sometimes, what is good for the gander is not suitable for the goose, and it is okay. But if you are searching for something to replace your current luggage, then wheeled backpack is a good option.
Unfortunately, choosing the best rolling bag is not always a walk in the park. But worry not. Here is how you're going to get your prize.
Materials
Undoubtedly, the number of materials on backpacks is increasing over time. But when it comes to it, Cordura or nylon are some of the best to have on a wheeled bag for travel. Make sure to check for the foam padding up to the fabric at the bottom.
The blend of materials in a particular backpack determines how long it is going to last. and of course, most of us want a bag that is going to stick around for a reasonable amount of time.
Don't forget to check the surrounding nylon fabric along the edges since there is where the initial damage occurs.
Ideally, the internal structure should be aluminum as opposed to plastic or stamped iron. Aluminum frame is more durable, and is going to provide a stable base for the heavy load you are going to pull along the way.
It is common for most people to forget about the quality of the wheels. Typically, this is where the problem may start, and after that, everything else goes downhill. What use will a rolling backpack be without wheels?
Ideally, the wheels should be strong and durable polyurethane material.
Weight
Everyone fancies travelling light. It is always convenient to move around with a light bag. Unfortunately, finding the best backpack that blends a sturdy structure with a lightweight design is not always easy. But it is not impossible.
That said, never compromise too much on the quality of the material and comfort. The weight can always be a necessary trade-off to ensure durability and comfort. Your ideal lightweight backpack with wheels is possible to get if you are diligent enough when purchasing.
Size
The first impulse that most individuals have when purchasing a backpack is to get the biggest to carry the most stuff. But that should not be how you go about it.
A decent wheeled backpack should fit all the necessary items that you need when on travel. For example, between 35 and 50 litres and last you up to 4 days. On the other hand, 70 litre backpack will accommodate a week-long laundry, comfortably.
Think along the lines of how long you take away from home when travelling. How often do you travel, and what are the must-have items when you hit the road?
Remember that buying an extra-large bag only to fit a 35 l worth of luggage is never the way to go. It is going to be uncomfortable along the way, and that is never the main idea. Travel light as much as possible, and it is going to be a pleasant experience.
Comfort
The suspension systems should be breathable and have good padding if the backpack is going to be comfortable to carry. Breathability is most important if you are in a warmer climate.
Never forget to check the quality of the straps. Ideally, they should be broad and have sufficient padding to prevent shoulder pain associated with carrying heavy equipment. The straps should be modifiable as well to avoid uncomfortable misalignment.
We have done the hard toiling for you by putting together a list of some of the most popular backpacks on the market. The basis for our criteria included the customer reviews and feedback, budget, brand, capacity and durability among others. We are sure that you are going to find the ideal backpack for you, and hit the road a happy person.
FAQ
In a nutshell, which is some of the essential features to have in a rolling backpack?
A rolling pack should have durable wheels, strong materials Such as nylon or Cordura or even canvas, and a sturdy aluminium structure. It should also have strong and durable wheels.
Organization features such as various compartments and pockets will go a long way into making your travel convenient. An organized backpack makes it natural to get your stuff when you need it.
Which are some of the most popular brands of rolling backpacks?
Samsonite and Eagle Creek are some of the brands that are worth the mention. However, there are a handful of others like the listed above. The main idea is to get the most appropriate to help travel conveniently.
Which are the features that make wheeled backpack stylish?
And while the term stylish is subjective, there is a consensus among most people on which features make one item stylish, and the other, not so much. For example, a telescoping handle, various aesthetics, the placing of pockets and the prints will make a wheeled backpack stylish.
Wrapping Up
The above review contains some of the best Wheeled Backpacks for Travel. They are comfortable to use, have efficient rolling wheels, and are quite durable. Our favorite is Samsonite Wheeled Backpack with various features to make your travel effortless and enjoyable.
It is attractive, comes with her ripstop fabric for durability and protection for your items. The laptop compartment and fit a 7-inch laptop. It also has various other compartments and pockets for easy organization.