We recommend products based on unbiased research from our editorial team. We may receive a small compensation at no extra cost to you if you click on a link. Read More.
A fishing backpack is not like the ordinary bags you see people carrying on the street. Rather, they are specially made to help anglers be the best. Below is a list of best fishing backpacks in the market.
Every angler out there wants to be the best in fishing. They want to always scoop the biggest bass in the area. If you have been fishing for some time, you will realize that the activity is more than an attempt to find food. It is a sport, and a hobby all wrapped in together in one activity. However, there are some tools that you need to succeed in fishing. These tools compliment your skills and fishing would be impossible without them. This is where a fishing backpack comes in.
Quick Answer: The Best Fishing Backpacks Reviewed
Our top pick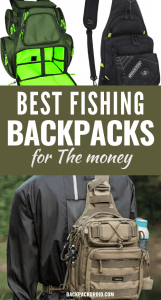 While all the products in this review are good quality and would make a decent fishing bag, Wild River by CLC Custom Leathercraft is the real deal. First, it is lightweight that you will appreciate carrying it around. You need something light so that you can have a better range of motion. Even though the bag is waterproof, it comes with a rains cover and so you are sure that your products are safe from the perils of weather. It is also appealing as it carries a pretty good design.
The backpack is comfortable, and you can use it elsewhere besides fishing. Other features such as the LED light, large capacity, and several pockets make the bag a real winner in this best fishing backpack review.
These are our picks for the 10 Top Recommended fishing backpacks on the market:
1. Piscifun Sports Shoulder Bag Fishing Tackle Bag  
This convenient bag has several compartments that make it easy to organize your stuff. It may be the perfect bag for fishing and any other outdoor activity. Including the fishing backpack tackle box, the sports shoulder bag is one of the best fishing backpacks. To make sure that you always have your essential small stuff such as the phone, makeup, photos, and keys, there is a small external bag for that. For more great products like this, check out our guide to the best sling backpacks.
Outdoor activities such as fishing require a bag that is light to increase your range of motion. This Piscifun shoulder bag is ultra-light. It is only 360g.
The bag has various compartments making organization of your fishing equipment easy.
The PVC canvas material the bag is made from is very comfortable. It also comes with a padded shoulder making it easy to carry as you fish.
The bag is made from a sturdy canvas material meaning that it can give you a considerable amount of service. You will not need to return to the store for another bag for a long time.
It comes in a beautiful design that both men and women may feel comfortable carrying.
The bag is multifunctional meaning that you can use it for a variety of activities. If you feel that you want to go hiking or cycling, then this bag may be your best companion.
PROS
Comfortable
Easy to use
Durable
Attractive design
Lightweight
Versatile
Waterproof
CONS
Does not come with a waist strap.
2. Wild River by CLC Custom Leathercraft
Anglers need a bag that can easily go anywhere and is easy to use. And, if such a bag has LED light functionality, the better. What makes this bag to be the best fishing backpack is that it has these and much more features. The first thing you notice when you come across this bag is its attractive design. It's a bag that you will be proud to carry around after you are done with fishing. As the time drifts away, this bag proves useful because of the LED light. You can easily see inside without the need for a torch. Don't forget to check out our guide to the best cooler backpacks that features more great bags like this.
Features 
Has an LED light system that helps you to fish at any time of the day
Has a rain-protective cover that you can pull over when the rain decides to fall.
Internal pockets for the maps and other small equipment you need when fishing
Mesh pockets that make it easy for you to see what you are carrying
A self-retracting steel cable for the small tools and clippers you bring to the fishing
PROS
LED light
Easy to use
Attractive design
A rain-protective cover
Convenient
CONS
The price is on the high side.
3. Chaos Ready Waterproof Backpack 
For some of us, fishing is just a once a year event. Therefore, it would not make sense to get a much more expensive bag. Chaos Ready Waterproof Backpack is quite the cheaper option that allows you to get a quality fishing backpack to accompany you to the fishing spot. The bag is quite the conventional type as you can use it in cycling, hiking and running. In all honesty, this is a bag that supports your keep-fit regimen. It has easy access mesh pockets for the items you need to be protected from the rain.
At 22 liters, this bag has the space for all the items you need for the fishing expedition. Furthermore, the bag is quite comfortable with the two padded shoulder straps.
Features 
The backpack is made from the heavy-duty material. The high-frequency-welded seams add to the durability of the bag.
The bag is waterproof and can protect your items from the elements. You can carry your gadgets and listen to slow jams as you try to catch something.
It has smooth access mesh sides that can serve as additional storage for your items.
The bag is both flexible and rugged. It can withstand most of the conditions. You can also use it for several other activities such as hiking and cycling.
The bag has padded shoulder straps for maximum comfort as you carry the bag.
PROS
A user-friendly buckle system
Durable material
Easy to carry
Cheap
Comfortable
CONS
4. HEXIN Lightweight
One stand out feature that makes this the best fishing backpack is its weight and practicality. It weighs only 0.7lbs, and you can use it for almost any activity. You need a bag that will feel comfortable on your back as you fish for you to be effective. The bag has probably the best-padded shoulder straps. They sit comfortably on your shoulders and back as you stand fishing. There is no telling how long you can stand before you can get your Nile perch. It can range from a few minutes to hours, and you need something that will not weigh you out as you vote. And you can use it as a hiking backpack.
Features 
Foldable design that allows you to expand and shrink as necessary. You can reduce the capacity and ensure that the bag fits its contents appropriately avoiding any chances of a noisy bag.
Reflective material in straps ensures you are visible to motorists as you walk to and fro your fishing spot.
The bag carries a good structure where the main compartment has two divider layers. The top and bottom front pockets are roomy to hold your equipment efficiently.
The material is non-tear nylon. It is both durable and light.
PROS
Very affordable
Foldable design so you may not have
Cheap
Has an aesthetic appeal.
Excellent quality that will go for years with the need for replacement.
CONS
Does not have a rain cover
5. Wild River by CLC Tackle Tek Recon Lighted Compact Tackle Backpack
By now, it is evident that CLC Custom Leathercraft is among the best backpacks around. This bag goes a long a way to cement the manufacturer's reputation and position in the market. Like other products from the company, CLC Custom Leathercraft WT3503 is an all-time backpack. This means that you can use it any time of the day even during the night time. Among its standout features include the inbuilt LED light and durability.
Features 
The backpack is weatherproof and can withstand various weather conditions. It also comes with rain cover in case it decides to rain.
It has adequate tray storage meaning that it can take up to 4 pieces of 3500-style trays. Mostly, this accommodates all your needs regarding the trays.
The quick-tool access feature has a removable holder for pliers and other tools you may need when fishing or doing other activities.
The backpack has mesh pockets for easier organization. You can put some of your fishing gear here.
Comes with base pads for minimal wear and tear.
PROS
Durable
Comes with a rain cover
Water resistant
Easy organization
Comfortable – has padded shoulders
Internal pockets that are clear
CONS
6. Fiblink Waterproof Sports Fishing Tackle Bag Backpack  
This bag is for those anglers that are looking for a convenient bag that is also cheap. It is for those that want a bag that fulfills the necessary requirements such as waterproofing. The bag is the best fishing backpack not only because of its low price but also because of convenience and multiuse. Whether you are taking a walk, cycling or even skating, you have a great companion in this backpack. The digital camouflage color the bag comes in is attractive. Our handy guide to the best cycling backpacks features more great products like this.
Features 
This bag is highly water resistant. It is made of durable nylon which is both sturdy and water-resistant.
The main compartment is roomy for the equipment you will need for your fishing trip.
The shoulder strap is adjustable to ensure the bag is fitting and comfortable.
The bag is quite comfortable with the ergonomic shoulder strap, back support and padded main compartment.
PROS
The bag is among the cheaper options
Attractive design
Versatile
Easy to use
CONS
Does not come with a rain cover
7. Wild River 3606 Multi-Tackle Large Backpack 
This is another excellent product from Wild River, and it is also among the best fishing backpack. This company has made a name for themselves manufacturing quality fishing bags, and this backpack is further proof of that. All the features of this product will make your fishing easier. The bag's great design, features, and colors are something that makes you grab your wallet and purchase one so that they might not run out of stock. Any ardent angler may fall in love with this backpack.
Features 
The bag has a roomy compartment that can hold up to 3600-style trays. This will help you as an angler organize lures and others critical to the activity.
The base pads are durable and protecting the backpack from below.
Comes with a clear zippered pocket where you can put electronics and other stuff like maps and notepads – you never know when your creative juices may kick in.
Has several external storage options where you can put your fishing tools.
PROS
Aesthetically appealing
Water-resistant
Easy to use
Roomy compartments and pockets
It is also light and suitable for other sports and other activities
Trays that help carry lures
Several pockets to help organize everything
CONS
Like other Wild River products, this backpack is expensive.
The plier straps are small.
8. Dry Bag Backpack 33L
This is another water-resistant bag that keeps all your belongings safe from the weather when you are out fishing. The design of this bag considers your safety. It has additional features such as a reflective material to keep you conspicuous. There is an emergency survival whistle should you need it. Other functional add-ons such as the mesh pockets are perfect for carrying containers with beverages. As a matter of fact, this is a genuinely outdoorsy bag that may be perfect for fishing.
Features 
It is water resistant and may withstand some of the toughest weather conditions. Whether kayaking or skating on the snow, this bag may be the best when it comes to protecting your things from the elements.
The ergonomic straps are fully adjustable and help keep the bag in place as you continue with your activities.
Heavy-duty material: the bag is made from a rugged 50-denier PVC. That in addition to the glue-welded seams ensures that the bag is truly durable.
Attractive warranty: This bag comes with a beautiful warranty that lasts a lifetime. This is the best indication of its quality.
PROS
Lightweight
Durable material
A lifetime warranty
Has a laptop pocket
Ergonomic and adjustable straps
Comfortable to wear
Reflectors for more visibility and safety on the road
CONS
Straps are not as durable.
9. Spiderwire Fishing Tackle Backpack ( Best Under $100)
For those looking for a genuinely dedicated fishing bag, this might be their bag. At first glance, you will know that this is a fishing backpack with rod holder. This affords you the opportunity to walk hands-free like a boss! Fishing could be that fun. The bag has three medium-sized utility boxes for lures and the sort. If you are the person who likes everything in its place, then this bag may be your thing. It has an organizer compartment that ensures every item is in its place. This is a fishing backpack with a cooler middle compartment for snacks and other food. Find more great products like this by checking out our guide to the best hunting backpacks.
Features 
Different compartments: You can use the top chamber for personal belongings such as GPS, keys, cellphone, and diary. The middle compartment is best for baits, drinks, clothes, and food.
There are three utility boxes of medium size. You can store your lures here and put the boxes in the top compartment.
It has a flat bottom to keep upright. This makes it easy to park it somewhere as you go on with your fishing.
Carries a stylish design.
PROS
Stylish design
Water resistant
Easy to carry
Has waist straps to keep the bag in place
CONS
10. Cor Waterproof Backpack
As an angler, you can never be too careful. The possibility of the bag falling into the water is great. If possible, always choose a bag that is extremely waterproof. This product has level three waterproofing. If the bag were to fall in the water, then it would float. The lumbar support and shoulder straps ensure that make it easy and comfortable to carry. The back panel has easy airflow design that keeps your back from sweating. For improved visibility while on the road, the bag has reflective patches both at the front and back.
Features 
Waterproof: this bag is fully waterproof and would keep your gear dry.
Rugged: The material used to make the bag is durable.
Comfortable: with padded and adjustable shoulder straps, the bag is quite comfortable to carry.
A zippered pocket to keep everything dry and free from dirt, dust, and ware.
The bag is available in two sizes, 20L and 40L.
Has an internal laptop sleeve.
PROS
Affordable
Comfortable to carry
It is a great backpack for water sports.
Stain and water-resistant material.
CONS
The buckle can easily break.
Why do you need a fishing backpack?
A successful fishing expedition requires the use of appropriate tools. However, they are not a few of them. They are several. You cannot carry all you need in fishing with your bare hands. Even all your pockets are not adequate. A fishing backpack allows you carry all you need in a fishing expedition. As those in the know will tell you, you can never be too sure that the fishing line or hook will hold for the entire journey. Not only does a backpack hold the necessary equipment, but it also allows you to carry extra gear. This enables your fishing to go on smoothly.
A backpack also enhances your flexibility. It increases your range of motion so that you are free to bend, turn and squat as necessary to be effective in fishing. If fly-fishing, you will be standing most of the time and a backpack is appropriate in that case. In a way, you can compare fishing with hunting. Hunters have backpacks which they put everything and head for the woods. This backpack contains snacks, ammo, and beverages among others to sustain the hunt. Similarly, you can take a fishing trip for a few days away from home for fun and relaxation. A backpack will help carry all the necessities to the spot.
Most backpacks are water resistant and help keep everything you have such as the electronics safe from the water. You never know when the rain may decide to fall. In other words, a backpack helps take technology with you whenever you are going. Fishing shouldn't keep you offline if you don't want to. You know how important these things are – the technology age. Fly fish anglers are in the majority of the time standing, and a fishing backpack keeps everything at close range. Should you need a new bait or hook after losing one, you would not have to stress about it. You have it in your best fly fishing backpack.

What to Look For when Buying Fishing Backpack
If you have finally decided to go for a fishing backpack, make sure it serves your needs, is durable and easy to carry. The number of bags out there is overwhelming, to say the least. If you were to go through all of them, the process would leave you reeling. So what would inform you of a quality backpack? We have been thinking about you and have decided to do the unthinkable. We will let you on the secret so that you will get the best fishing backpack. Yes, we know, we are the greatest.
The type of fishing backpack
The types of fishing backpacks are all down to where you wear them. The most common among them include waist packs, sling design, and chest pack. You have probably seen them around. If you are the type of person that prefers smaller loads, then a chest pack will be enough. It will be adequate for a few lures, hooks and other crucial items. However, they chest packs are too small for a few days' trip.
Sling backpacks are more comfortable and have a bigger capacity. You can wear them when doing your fishing. These types of bags are for people that passionate about fishing and want to carry as much equipment and necessities as possible.
Storage
This is one of the critical elements you should never overlook. Storage depends on the design functionality and volume. Depending on preference and use, a bag can have several pockets to carry your equipment. The zippered and mesh pockets have their purpose. Check them appropriately and make sure that they serve your needs.
There are backpacks in the market with utility trays specifically for lures. This feature helps you access the lures easily. The best backpack for fishing also has a fishing rod holder allowing you to walk hands-free. You can also choose bags that have holding areas for a fishing rod. This especially available to accommodate the best backpack fishing rod.
Water resistance
It comes without saying that fishing exposes your items to the water. The risk of having your phone or iPad splashed with water is higher, and you cannot imagine the resulting loss. Make sure your backpack material is water resistant to protect your equipment from downpours. There is also the matter of rain.  When rain decides to fall when you are in the middle of the lake, you have no option but to take in all the drizzling. Unfortunately, the bag is not thoroughly water resistant.
Water can still seep in through the zip and reach your equipment. To avoid such situations, make sure your bag has a rain cover. When it comes to it, you can pull this cover over it, and the contents remain as dry as possible.
Durability
The bag you choose should be rugged and light. It should not easily tear under stress. Canvas material can comfortably hold heavy materials and keep the contents away from the water. Durability also depends on how well the seams are held together. Instead of a single stitch, go with the double, and you will not be facing a situation where it bursts under heavy weights. For zippers, and other small features, make sure they are made of hard plastic and stainless steel. It would not make any sense for you to have a great material on your hands but for the small features to be poor quality.
Comfort
The best fishing backpacks are easy and comfortable to carry along. They should have padded shoulder straps and the material at the back be a fabric that absorbs sweat. A bag designed to accommodate the contours of your body are the best. They will feel comfortable as you fish. The more comfortable you are, the more efficient you become. An example includes Shimano blackmoon fishing backpacks.
FAQ
What should I pack in the fishing backpack?
If you are planning on going on a fishing expedition, make sure to keep the load as easy to carry as possible. Only take what you really need for your fishing trip. Keep it simple, and you will enjoy your fishing expedition. Carry extra fishing accessories such as hooks to cover for any unforeseen eventualities. A few snacks and a bottle of water will replenish your energy and keep you hydrated. Fishing is energy intensive, and most of the time you are in the glare of the sun.
Which types of rods should I pack?
For those people that are into travel fishing, there are travel fishing rods. In most cases, these rods come in 3 or 4 parts for easier carrying. They also come with carrying case that you can easily fasten to your best fishing tackle backpack. If your backpack has minimal space, then telescopic rods are the best. They are lovely space savers and easily pack in the remaining space that you have in your backpack. However, critics say that they have low action especially when you are fighting fish.
What are some of the basics I should pack in my fishing backpack?
There would not be any fishing without a fishing reel. However, be careful when packing as it is delicate. I have seen anglers wrap them in towels before putting them in the bag. Don't forget to pack other things such a snacks, beverages, map, compass and extra clothing. You need the clothes in case you find yourself soaking in water after you lose in your tag of war with the bass. You can't show up in your front door soaking in water. Fishing can be a messy affair, and you need plan ahead.
Are LED backpacks any good?
If possible, go for the bag with an inbuilt LED light. It is completely hard to lose track of time and find yourself trying to find something in your bag. With LED backpack, you are set for work. Furthermore, walking in the night after fishing places you in danger of incoming vehicles. The LED backlight provides the necessary visibility you need.
Wrapping up
This list contains some of the best fishing backpacks in the market at the moment. You will not go wrong with any of them. They have most of the features that will help you in your fishing expedition.
However, Wild River by CLC Custom Leathercraft is a good choice that you should seriously consider. It has almost all the features that a fishing backpack should have. The only thing you should note is that it does not come cheap. You may need to part with a significant amount to acquire.