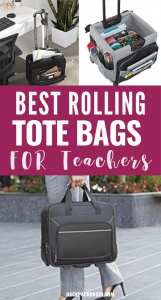 We all love the convenience that rolling tote bags provide – who doesn't? Teachers who have books and other equipment to carry around definitely need a tote bag, a tote bag with wheels to make their life a little bit easier. But not all bags are ideal. Such factors as mobility and size always come into play. In other words, they should boast a decent capacity and be easy to move around – you know how problematic big bags can be, especially when they are full to the brim.
A tote bag for teachers must meet the needs of a teacher. It must have lots of room to store and carry things. Besides that, it must offer the user a way to organize student folders, a laptop, books, grade book, plan book and implements for writing and coloring.
Pockets would also be handy for an organization. Since a teacher's salary is usually not the highest, a tote bag's price should also play a role in your choice. Teachers need the best rolling bags that support their constant movement throughout the day – you know how they are. Something convenient and substantial enough comes to mind.
The 9 Best rolling carts and bags for teachers:
The following is a review of our top picks for the best rolling bags for teachers:
1.  Alpine Swiss Rolling Laptop Briefcase on Wheels
Every professional need a bag that suits their job – in other words, something that reflects what they do and is presentable. This bag has the design and all the qualities that a professional would be looking out for, such as a sturdy design and polished look. It is a bag that sets you apart from the rest of the pack. You know that a brand means a considerable lot when it comes to such products as rolling tote bags for work. Ideally, Alpine Swiss are a level above most when it comes to quality bags and nothing best highlights this than this tote bag.
But what makes this bag a candidate for the best bag for a teacher? Well, for starters, the bag makes it a breeze to move your stuff around – you don't need some muscle to carry all the books and equipment you need. The wheels make movement smooth and effortless so that you have all the energy you require to ace that lesson – nothing will satisfy you as much as this.
The bag has more space, necessary to carry all your things – this is unlike your traditional bag where you need two to bring all your stuff. You will also find a padded laptop sleeve inside the large compartment. And to ensure your laptop and other belongings are safe, the bag comes with two separate locks – quite convenient. Among the most overlooked features are the wheels of the pack.
However, you need not worry anymore as the wheels of this bag come with a curb protector. This means that as you pull up your rolling bags for professionals over the curb or steps, the bag, as well as, the wheels will not damage. However, working the locks may be a bit challenging at first. Another notable shortcoming is that the material is not leather and may not last like comparable leather products. It is available in online marketplaces like Amazon and on the company's website. This attractive bag comes with a one-year warranty. Love this product? Our handy guide to the best laptop backpacks for women features more great products like this.
2. Everything Mary Rolling Scrapbook Storage Tote
The design of this tote is meant to be for a person who makes scrapbooks. However, all its storage spaces are meant for paper, project materials, scissors, or supplies for making scrapbooks are handy for a teacher as well. Rolling this tote is easy because it features dual wheels, a telescoping handle, and side handles. The sheik, outer design of this tote is appropriate for a woman or man. The dark blue outside and the outer design is also very attractive.
Features Lots of Storage
A large main compartment could store a laptop.
Includes four inner zipper pockets and three outside zip pockets.
Features nine storage spaces which include velcro pockets, sleeve pockets, zipper pockets, and large zipper pockets.
Features lots of pockets
3. ECR4Kids MemoryStor Universal Rolling Cart and Organizer Bag
What does a teacher carry every day? A teacher needs to carry school supplies including both legal size folders and 8 1/2 by 11 folders, binders, books, a grade book, a plan book, a laptop and more. Of course, her rolling cart must have enough room to store all these items. Not only does this rolling cart have plenty of room, but it also has features designed to organize them.
These features include:
Pockets with zipper closures and hook and loop closures
Over 30 different compartments for storage which can easily be added or removed from cart
Hand grips that are built-in and make moving and lifting easy
Sides are locked securely with double rails
Other features include:
Cart has the capability to be folded to a thickness of three inches.
Telescoping handle can be extended to 23 inches from the cart and can also be locked in three different positions.
Built-in rubber wheels provide mobility.
Its sturdy design can hold 65 pounds of supplies.
This cart is available in grey and black, grey and blue, grey and green, grey and orange, grey and red, and grey and turquoise.
4. Everything Mary wit Deluxe Teal Geometric Rolling Organizer Papercrafting Storage Tote
This rolling organizer is designed for a paper crafter. However, the roomy space design for holding paper, tools, projects, and other papercraft supplies is perfect for teachers as well. Teachers need room for student papers, files, books, a grade book, a plan book, a laptop, and implements for both making corrections and grading papers. The outer design of the rolling tote has a geometric print giving it a timeless look. Its luxurious look is also created by its being built with high quality 75D quilted polyester fabric.
This rolling organizer includes the following features:
11 individual spaces for storage
The main storage space measuring 15.5 inches L x 10 inches W x 15 inches T with a divider made of Velcro is included.
A lid with three large clear storage pockets with a zipper closure and a convenient Velcro strap for keeping the lid up.
One zippered side, accordion pocket with two spaces
One side zipper pocket on the other side that is roomy and has 30 elastic loops for pens
One front pocket with a zipper and three clear pockets inside it
A full-length pocket with a zipper on the lid
Has a locking pull handle
Has a total of 47 storage spaces
The tote bag has reinforced side handles.
It has a telescoping interlocking handle to make rolling it easy.
And It has dual wheels for easy rolling.
5. AmazonBasics Underseat Luggage
Although this luggage is designed for airline travel, it does have lots of storage which would be handy for teachers. However, it can still be a handy thing for traveling since its size would fit under the seat in front of you or in most overhead compartments of airplanes. For more similar option, check out our guide to the best wheeled backpacks for travel.
Features suited to teachers:
The spacious main compartment would hold a laptop nicely.
It has a number of interior pockets which would be handy for small items such as implements for grading and making corrections.
An easy-access, front organizer which would keep the teacher's grade book or a textbook handy
 A push-button handle which telescopes
Its smooth-rolling wheels make mobility easy.
Both the exterior and lining are polyester.
Besides the all-black exterior, this cart is available in either a smooth or quilted exterior in grey, navy, purple, or red.
Includes a one-year warranty which is backed by Amazon Basics.
6. Bigger Smart Cart Multipurpose Rolling Collapsible Utility Cart Basket
The design of this Bigger Smart Cart is for a person on the go, and teachers certainly are. This multi-purpose basket can be easily folded down to half its size for storing. It is easily maneuverable because it has an extendable handle and wheels.
It has plenty of room for a teacher to store all his or her essentials that include books, a laptop, student folders, papers, a grade book, pens, staplers, rulers, erasers, pencils, crayons, markers, highlighters, chalks, construction paper, and a plan book. Items needing easy access can be stored in their front pocket. This four-pound cart has enough room to hold 125 pounds. It can be easily loaded due to its having a double handle. Its double handle makes it easier to pull it up and down stairs or put it in and out of a car trunk.
Additional features include:
A long handle that can also function as a shoulder strap
The long handle has an ergonomic curvature making it easier to use less force to pull heavier loads.
It also has a custom molded ergonomic handle with a non-slip rubber grip.
It can be purchased with an outer décor that is Baroque, black, blue, Damask, grey Chevron, Houndstooth, Moroccan tile, Paisley, red, or Victorian.
7. CROP IN STYLE 60001 XXL Rolling Tote, Black
This rolling tote by Crop in Style is made of Cardura nylon and has a long-lasting zipper closure. Rolling this tote is very easy due to its in-line skate wheels and pull-up handle that is telescoping. It offers you lots of storage since its size is XX-large.
This superior tote organizer features:
 Two zippered side pockets with clear pockets
An extra-large front pocket
A 75 loop caddy mounted on the inside cover for easy accessibility
A large size inside pocket on the inside for storing with divides for storing student folders and papers, a laptop, and books.
8. J World New York Sundance LAPTOP Rolling Backpack for Schooling & Travel
This backpack by J World New York Sundance not only is a backpack, but it is also capable of being rolled. It is meant to be for carrying a laptop, but it surely can carry all those things necessary for teaching such a chalk, writing implements, textbooks, a grade book, and a plan book in its outside pockets. Be sure to also check out our list of the most expensive backpacks for men.
This rolling backpack features the following:
Has a large padded laptop main compartment, two mesh pockets, a front pocket organizer with a holder for five pencils, two mesh pockets, and a key fob.
If worn as a backpack, its ergonomic S-shaped shoulder straps that are adjustable and its cushioned back panel makes this backpack very comfortable.
Its T-shaped handle that is telescoping is made of high-density PU coated materials. The aluminum pipes of the handle make it comfortable to grip firmly. The height of the handle can also be easily adjusted by its multi-stage locks.
Your laptop or tablet will be safe from damage since its sleeve is fully padded.
Its wheels are noiseless since they are soft. Their motion is also controllable. They also have a long-lasting life and each one is embedded with the Crop in Style logo.
When walking at night, the backpack's reflective tape's visibility will help to keep you safe.
This rolling backpack is available in 36 different designs and colors.
9. Tilami Rolling Backpack Armor Luggage
Besides kids and students, this Tilami Rolling Backpack Armor Luggage can be used by teacher as well. This backpack has a large compartment to hold the teacher's laptop computer or iPad. The large compartment can also hold the essentials for teaching such as textbooks, chalk, writing implements, a grade book, a plan book, rulers, etc. This backpack also has two longer side pockets that can be a convenient way to carry bottles or an umbrella.
This rolling backpack features:
Its protection system prevents it from a collision and, therefore, its life is extended.
Its side pockets have a hook to prevent anything from falling out.
This backpack has a wheel cover for you to pull-out when you aren't rolling it and using the wheels. You simply pull the cover out to cover the wheels.
The shoulder straps are padded for added comfort when you're using them.
This backpack is a perfect size for airline travel.
This rolling backpack is available in 12 different designs and colors.
FAQs
Are all rolling tote bags similar?
Just like you will find various brands of every product, you see a wide variety of tote bags. Some of them have telescopic handles where you can push them in and carry the bag on your shoulders or hands. Others have wheels, and others don't – depending on the load you will be moving, you can choose either.
What are some of the factors to consider when choosing a tote bag?
All tote bags are not the same – this applies to every product you find on the market. However, there several factors to consider when choosing a tote bag and that includes size and mobility. If you are traveling through air, then something that will comfortably fit under your seat is sufficient.
Mobility will depend on the size and the load you intend to carry with your tote.  Books and other teaching materials are sufficiently weighty to deserve their own tote. The material determines the durability of your tote. Canvas is ideal if using the bag regularly. It would be a sort of disaster to have your bag crumble with your items in the middle of the road just because you never choose wisely – don't you agree?
How many pockets and compartments should I go with when choosing the ideal tote bag?
A tote with several pockets and compartments make organization of your items so much easier. For example, teachers don't only have books to carry. There are personal items such as cellphone, keys, and others that need to be in a separate place for easier access. Therefore pockets and compartments are critical considerations when choosing a tote bag, but how many pockets and sections? Well, it will depend on your preference and your stuff. Something in the range of three pockets and eight is okay. Two of three compartments are not too shabby.
Wrapping Up
Teachers and other professionals require a functional and convenient bag to hold all the tools they need to fulfill their roles. All the reviewed bags are some of the best rolling bags for teachers that you can choose from. However, the best among them is Alpine Swiss Rolling Laptop Briefcase. The bag has all the necessary features like locks, compartments, and pockets to make the life of a professional easier. Furthermore, it is sturdy and has an appealing design – you can proudly carry it around.